Leaving After Colliding/Hit-and-Run/Leaving Scene of Accident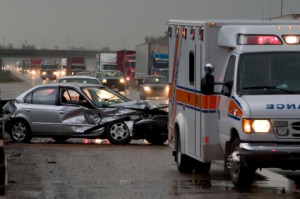 While it is not a crime to be involved in a traffic accident, it is illegal to leave the scene of an accident without either reporting the incident or waiting for police to arrive. This is known in many jurisdictions as "hit-and-run" or as "leaving the scene of an accident." In Washington, D.C., the offense is called "Leaving After Colliding."
There are two different forms of the offense in D.C. In the case of an accident in which another person has been injured, the person must immediately stop and make sure that emergency assistance is provided as necessary. The person must also (1) remain on the scene until police arrive and (2) provide identifying information to both law enforcement personnel and to the injured person.
The penalty for a first-time violator of this part of the statute is a maximum fine of $1,000 and incarceration for up to 180 days. Second offenders are subject to a fine of $2,500 and up to 1 year in jail.
In cases in which the car accident results in property damage or in injury to a domestic animal, the person must immediately stop. The person must also provide identifying information to the owner of the property or animal. If the owner is not present, the person must provide identifying information and the location of the collision to law enforcement or to the 911 operator. D.C. Code § 50-2201.05(c).
The penalty for a first-time violator of this part of the statute is a $250 fine and 30 days in jail.
It is an affirmative defense to this charge that the person's failure to stop or to remain on the scene was the result of a reasonable believe that his or her personal safety was at risk and that he or she called 911 or otherwise notified law enforcement as soon as it was safe to do so. It is not a defense that the person was intoxicated, impaired in any way or distracted or that the person was not at fault for the collision.
People who are suspected of having violated this statute are typically notified by mail and asked to come into a police district building to answer questions. Because these people are now potentially subject to criminal liability, it is important that they hire defense counsel to protect their interests. For a D.C. criminal defense attorney with experience handling this type of case, please contact Jamison Koehler at 202-549-2374 or jkoehler@koehlerlaw.net.
In James Crawford v. District of Columbia, 192 A.3d 568 (D.C. 2018), the D.C. Court of Appeals held that the Leaving After Colliding — Property Damage (LAC-PD) statute requires the government to prove mens rea (i.e., criminal intent). Specifically, the person operating the vehicle "must know[] or ha[ve] reason to believe" that his or her vehicle was in an accident. D.C. Code § 50-2201.05c(a).