"Darling, I Love You But Give Me Park Avenue"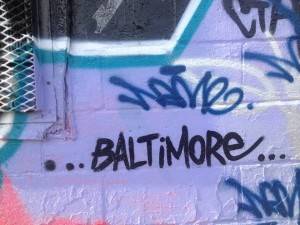 We live on Park Avenue.
It is a beautiful tree-lined street in an historic part of town. But it is not what you think: It is not Park Avenue in New York City.
And that is because we live in Baltimore.
That is the thing about this city. For every street, bridge, monument, or tourist attraction, there is a street, bridge, monument or tourist attraction somewhere else that is better known, more famous. Do you think of Baltimore when you think of Penn Station or Park Avenue? Of course not. You think of New York City. How about Pennsylvania Avenue or the Washington Monument or Key Bridge? No, those things are all associated with D.C. And Mt. Vernon, of course, is in Virginia.
I have to be careful when I say this because I do want not to offend my brother-in-law George. George grew up in Baltimore, and, like most natives, he takes any perceived slight of the city very personally. For example, you can't even mention John Elway's name without aggravating George. (When the Baltimore Colts drafted Elway with the very first pick in the 1983 draft, Elway reportedly said he would rather be a garbage collector than play for the city. This forced the Colts to trade him for a fraction of his value.) In fact, that used to be my test for determining whether a person was a true native of Baltimore: I would ask the person what he or she thought of Elway. If the person did not share George's passionate dislike of Elway, I would know that I had unmasked a poseur.
On New Year's Eve two years ago, George and I stood with my sister and my wife in the living room of their house in Grosse Pointe, Michigan. My wife and I had already made the decision to move to Baltimore, and we were thinking very seriously about Roland Park, which is where George had grown up. But, as my wife put it, we wanted to live somewhere where we would be able to walk to things, and my sister suggested we consider Bolton Hill. George was skeptical. After all, Bolton Hill was near some pretty questionable areas the last time he had lived here. But I saw the look in my wife's eye when my sister suggested this. George, I said to him. I have a strong feeling that's where we are going to end up.
And end up there is what we did.
It has been a good move. I love the sirens and the back stoops, the cracked pavement and the graffiti. I love the sidewalk cafes and the $2 Natty Bohs at Turps, the local sports bar where you can order the best BBQ wings in town. And you can't beat the rumble of the commuter train during the day or the screeching of the rails of the freight train late at night.
My wife and I chose Baltimore not despite The Wire but because of it. And we moved to Baltimore not because we had grown up here or because we had family here or even because we had jobs here. (My wife has a national practice and I commute every day to D.C.) No, my wife and I moved to Baltimore out of pure love for the city. And there cannot be many people who can make this claim. Not even George.
More like this:
We Used to Live in the Steinberg House