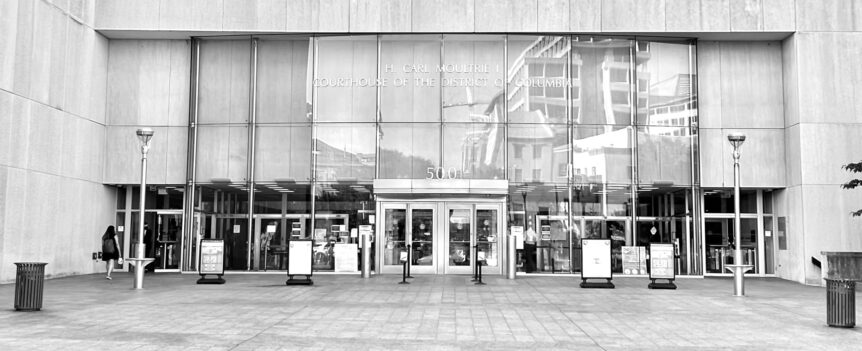 On searching a car after POCA arrest in Smith v. U.S.
In Arizona v. Gant, the U.S. Supreme Court held that police may search the passenger compartment of a vehicle incident to a recent occupant's arrest (and therefore without a warrant) under one of only two scenarios. 
The first scenario is that officers have a reasonable belief that the arrestee might access the vehicle at the time of the search, thereby posing a risk to officer safety.  A suspect sitting in handcuffs in the backseat of a police car does not pose such a risk.
The second scenario is a reasonable belief by officers that the vehicle might contain evidence of the offense of arrest.  For example:  Police officers would not be able to search the car of a person arrested for a simple traffic infraction, as in Gant.  Police would have authority to search a car for evidence in connection with an arrest for, say, guns or drugs. 
Following up on an earlier opinion interpreting Gant in D.C., United States v. Taylor, 49 A.3d 818 (D.C. 2012), a recent opinion by the D.C. Court of Appeals has looked at Gant in the context of a Possession of Open Container of Alcohol (POCA) case. 
The defendant in Gregory Ray Smith v. United States, 283 A.3d 88 (D.C. 2022), was pulled over by the infamous (and now defunct) Gun Recovery Unit for excessive tint on his windows.  During the stop, officers observed a bottle of Remy Martin V in the center console that was one-third full.
The officers then searched the passenger compartment of the car "to see if there [were] any other liquor[] bottles[,] beer cans, cups, wine bottles, things of that nature" inside. 
Officers found a black plastic bag on the front passenger floorboard.  Inside that bag was a small, hard plastic case with two latches on it – what one witness described as an "otter box."  Finding PCP inside the box, officers arrested Smith for possession of a controlled substance.
In this case, the officers searched the box under the mistaken understanding that there is per se rule allowing them to search any vehicle when the infraction in question constitutes an arrestable offense.
As the D.C. Court of Appeals held in Taylor and other cases and then re-affirmed here, the law is much more nuanced than that.  In fact, where a search is lawful under Gant "does not turn on per se rules based solely on the nature of the offense of arrest, …but rather requires a case-specific inquiry into whether, in the particular circumstances, the police have a reasonable, articulable suspicion that relevant evidence might be found in the specific vehicle at issue."  United States v. Nash & Lewis, 100 A.3d 157, 161 (D.C. 2014). 
In this case, even if officers had a legal basis for searching the car based on the fact that POCA is an arrestable offense, they still did not have authority to search the otter box.  After all, the authority to search – whether justified by a warrant, probable cause or reasonable, articulable suspicion – is limited to those containers where the object of the search might be concealed.  And otter box was far too small to hold the cups, beer cans, liquor bottles and other items the officers claimed they were looking for. 
The Honorable Steven Berk presided at trial.  Adgie O'Bryant represented Smith at trial, and Dennis Hart represented him on appeal.