Imperfect Impeachment and Kamala Harris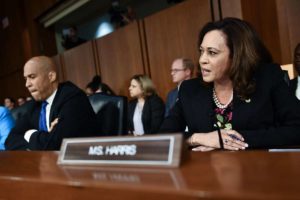 It is my Kamala Harris moment.
You recall her questioning of Brett Kavanaugh at his confirmation hearing. She sets him up carefully:
Q: Judge, have you ever discussed Special Counsel Mueller or his investigation with anyone?
A: Well, it was in the news every day.
Q: Have you discussed it with anyone?
A: With other judges, I know, uh –
Q: — Have you discussed Mueller or his investigation with anyone at Kasowitz, Benson & Torres, a law firm founded by Marc Kasowitz, President Trump's personal lawyer?
A: Uh –
Q: — Be sure about your answer, sir.
A: Um, well, I am not remembering but if you have something, you want –
And so on. It is as if this former prosecutor has something on him. Then she fails to deliver the goods.
I had a similar situation in a domestic violence bench trial the other day. The complainant had sent my client multiple text messages after my client's arrest. The text messages would have indicated bias. But the text messages had been lost along with the phone.
Like Kamala Harris, I decide to go on a fishing expedition.
I do a great job of setting up the witness. You have a cell phone? Yes. The cell phone number is 202-555-5555? Yes. You use the cell phone to text people? Yes. You have used the cell phone to text my client? Yes. You have communicated with my client since his arrest in this matter? Yes.
I then make a big show of looking through my file for some papers. I want him to believe I have his text messages in front of me now.
On August 24, you texted my client that you wanted to see him? The complainant looks confused. I think I have him. Then: No, I didn't.
You texted my client you wouldn't come to court if he got back together with you? No.
And so on. I try to fool him. He calls my bluff.
The judge is waiting for me to complete the impeachment. I never do. The judge ultimately acquits my client, for other reasons, and that is good. But not before the judge chastises me on the incomplete impeachment. Imperfect impeachment is legally useless, he tells the courtroom. He is really speaking to Kamala Harris and me.