"Equal Justice Under Law": Why Alec Karakatsanis Is Not Your Typical Smug, Humorless Public Interest Lawyer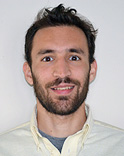 One of the hazards of public interest work is that it seems to contribute to smugness. I may be underpaid and overworked. But at least I am doing the Lord's work. And that work is more important than anything my higher paid colleagues with more prestigious jobs are doing.
I encountered a little bit of this phenomenon during my three years with the public defender's office in Philadelphia. Accompanied by a certain world-weariness (and absolutely no sense of humor at all), the form the phenomenon took there was a degree of competitiveness; as in, I am more committed to the defense of our indigent clients than you are.
One exception to this phenomenon in Philly was someone who had more reason to feel superior than most people. This was the head of the appeals unit, Karl Baker. I remember walking into his office, crestfallen because I thought I had just committed some grievous error on behalf of a client that could never be rectified. There were no recriminations or judgments from Baker. Instead, he went immediately to the solution. And, fortunately for my client, it turns out that there was one.
The odd mixture of smugness and competitiveness that you find in many people working in public interest jobs is not something that seems to afflict the attorneys who work for the Public Defender Service (PDS). Their attitude, instead, is one of openness and cooperation: Let's work together. Let's challenge each other. Let's learn from each other so that we can all provide the best possible defense for our clients.
And there is no better example of this than former PDS attorney Alec Karakatsanis. Karakatsanis is a helluva lot smarter than most of the rest of us. However, like Karl Baker in Philadelphia, he doesn't seem to care if we know this or not.
Karakatsanis graduated from Yale in 2005 and from Harvard Law School three years later. Karakatsanis worked as a federal public defender in Alabama before joining PDS. At PDS, Karakatsanis worked in the Special Litigation Division where he litigated more complicated cases in D.C. and federal court. Because he also served as a valuable resource for solo practitioners like myself, I was very sorry to call over there a couple of months ago only to be told that he had left PDS.
Karakatsanis has a certain intensity about him without all the stuff that normally accompanies that intensity. And, because he is absolutely committed to the effective representation of indigent defendants nationwide, he recently left PDS to set up, along with his friend and former classmate Phil Telfeyan, a non-profit organization called Equal Justice Under Law.
At first glance, it is difficult to figure out what this new organization is planning to accomplish. For one thing, not surprising for a new enterprise, the organization's website is difficult to find, even when you google its name in combination with Karakatsanis'. And the mission statement included on the website does not provide much help:
Equal Justice Under Law is dedicated to promoting a society in which all human beings can flourish by ensuring that the legal system protects the important principles of human and civil rights, equality, and fairness. We fight the inequalities that continue to permeate both our legal system and our society as a whole.
Although the words "Equal Justice Under Law" are etched into the façade of white marble above the United States Supreme Court, too often our legal system falls woefully short of its lofty goals, especially for people living in poverty. Our modern legal system is characterized by violations of basic human and civil rights on a massive scale. Many of these violations have become such regular features of every-day life and legal practice that they are barely noticed. The result is the subtle economic and cultural normalization of abuses that should shock us to the core.
Equal Justice Under Law provides pro bono legal services to those most in need, focusing on the systemic issues that create unjustifiable inequalities. We bring cases across the United States, engaging in litigation and advocacy to reform the structures, norms, and incentives that create and perpetuate violations of fundamental rights.
But you get a better sense of the organization by looking at its two initial lawsuits, the first a class action lawsuit challenging Alabama's debtor prisons and the other a challenge to Alabama's sexual offender laws. With respect to the prisons, for example, Karakatsanis' new organization had conducted an extensive investigation before bringing suit into what it believed was "the rise of modern-day debtors prisons." Equal Justice Under Law obtained a preliminary injunction on May 1, 2014, barring the city from jailing three of its clients who were at imminent risk of being jailed. After the order, the city released dozens of inmates from a local jail who had been too poor to pay traffic fines. It also terminated its contract with the private company to which it had previously outsourced and privatized its probation system.
Although I have never met Tefelyan, Karakatsanis has his eye on the ball. And, although I have a sneaking suspicion that he is going to be really annoyed by the focus on the personal in this blog entry, I wish him and his new organization a lot of luck.
More like this:
Happy Birthday to Gideon: On the Arrogance of Public Defenders
A Public Defender Just Doing His Job