D.C. License Suspension/Revocation
According to D.C.'s Municipal Regulations, a person's operating permit can be suspended or revoked for a number of reasons.  A conviction for DUI, DWI, or certain other criminal offenses involving a vehicle will result in a mandatory revocation.  Other traffic offenses, such as reckless driving or operating a vehicle without insurance, or being charged with DUI, DWI or a criminal offense involving a vehicle, can result in suspension or revocation after a hearing.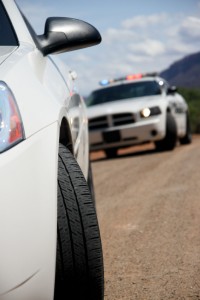 Operating a car in Washington, D.C. after a person's license has been suspended or revoked is a criminal offense.  The penalty is a maximum fine of $5,000 and/or up to a year imprisonment.  D.C. Code 50-1403.01.
Mandatory Revocation
Revocation of a person's operating privileges is mandatory in three situations.  First, the person accumulates 12 points on his or her license.  (See the section below on the "point" system in D.C.)  Second, the person refuses to submit to a blood or breath test after being stopped by a police officer on suspicion of "drinking and driving."  Or third, the person is convicted of any one of the following offenses:
Mandatory license revocations last a minimum of 6 months, and in some cases (refusal to take a breath test, for example) can be for one year.   When the license is revoked pursuant to a DWI or DUI conviction, the District will investigate the person's alcohol and drug habits, in addition to driving ability, prior to restoring driving privileges.
Discretionary Suspensions/Revocations
A person's operating privileges can be suspended or revoked in any of the following situations:
Negligent driving resulting in death;
Physical or mental incompetence to operate a vehicle safely;
Operating a vehicle 30 miles or above the speed limit;
Traffic accident resulting in accident for which collateral of $50 or more is required;
Operating vehicle during diabetic coma or epileptic or other seizure;
Conviction or civil liability for so many offenses as to indicate disregard for traffic laws/public safety;
Committing an offense for which mandatory revocation would be required if convicted;
Failure to appear at traffic hearing;
Operating a vehicle without insurance;
Providing false information on registration or insurance; or
Reckless driving.
A discretionary license suspension lasts from 2 to 90 days.  A discretionary license revocation is effective for at least 6 months.  The license will only be restored after the District has determined that restoration poses no risk to public safety.
D.C.'s "Point" System
Like many states, Washington, D.C. has a system for assessing "demerit points" against a person's driving record.  Each infraction results in a given number of points, with the more serious offenses resulting in a greater number of points.  For example, operating a vehicle on a suspended/revoked license results in an assessment of 12 points against the person's record.  A less serious offense, such as tailgating, results in 2 points.  Points stay on a person's record for two years after the date of assessment.
A driver can also accumulate "safe driving" points to offset the number of demerit points on the person's record.  A driver can receive one safe driving point a year, up to a maximum of 5 points, for every year in which he or she is not assessed a demerit point.
Suspension of a driver's license is discretionary when the total number of points, offset by any safety points, reaches 8 or 9.  Suspension is required at 10 points, and the license will be revoked at 12.
Points are not assessed for tickets issued pursuant to an "automated traffic enforcement system" (for example, automatic cameras at traffic lights).  Drivers can also receive demerit points for infractions committed outside the District.
Interstate Reciprocity
A driver with an out-of-state license can lawfully operate a vehicle in the District.  However, the non-resident's operating privileges can be suspended or revoked in the same manner as a D.C. license holder.  The District will notify the other state of any traffic violations occurred in D.C.  It can also treat an out-of-state violation for a D.C. operator as a violation that occurred within the District.  Out-of-state violations can also result in points being assessed to the driver's license if the same or substantially similar offense in the District carries points.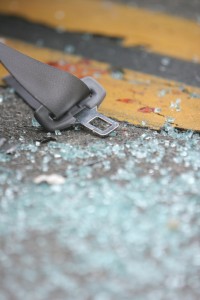 Notice and Hearing
A driver is entitled to notice for all license suspensions or revocations.  There are only hearings, however, for discretionary suspensions and revocations.
In the case of a mandatory suspension or revocation because of accumulated points on the driver's record, the District must include a copy of the driver's record along with the notice of the suspension/revocation.  The driver then has 10 days (15 days if the person is a non-resident) to file a written objection challenging the driving record.  The objection stays the order until the District issues a written decision.
The driver also has 10 days to challenge a discretionary suspension or revocation (or 15 days if a non-resident).  In this case, however, the challenge results in a hearing at which the burden is on the District to justify the proposed action.  The challenge will also stay the order, except when the underlying offense is:  (1) DWI, (2) DUI, (3) manslaughter when a car is involved, or (4) operating a motor vehicle equipped with a smoke screen.
Limited Occupational Licenses
A person whose driver's license has been suspended or revoked can petition the District for a modification of the order allowing the person to retain the driver's operating privileges on a limited basis (to go to or from work, for example).  In order to qualify for the modification, the person will need to demonstrate, first, that the suspension/revocation will result in extreme hardship.  Second, the person will need to convince the District examiner that public safety will not be endangered.   The decision is based entirely on the written application; that is, there is no hearing.
People who are not eligible for an occupational license include:  (1) drivers whose licenses were subject to mandatory revocations, (2) drivers whose licenses were revoked for physical or mental reasons, (3) drivers whose licenses were revoked as a result of a conviction for driving after suspension or revocation, (4) drivers who have accumulated 16 points on their driving records, and (5) drivers who received an occupational license within the preceding two years.