ABA Blawg 100 for 2014
by Jamison Koehler on December 2, 2014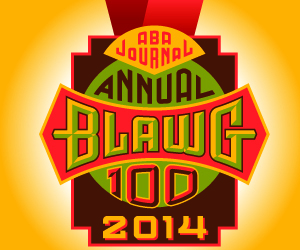 The ABA Journal has again issued its list of the top 100 legal blogs, this time for 2014, and I was honored to have my blog included once again. The Journal is now accepting votes for the top blog in each of 13 different categories.
Over at Defrosting Cold Cases, Alice de Sturler says that a vote for her blog is "not for my glory." Instead, "[y]our vote supports the victims in decades old unsolved missing persons and murder cases."
Although I wish I could claim such noble aspirations, my request that you vote for my blog in the criminal justice category is based on nothing more than ego. And while you are at it, you might also vote for a number of other very worthy blogs that also made the list. These include Matt Brown's Tempe Criminal Defense, Jeff Gamso's For the Defense, Mark Bennett's Defending People, Gideon's A Public Defender, Ken White's Popehat, Prosecutor's Discretion, and Max Kennerly's Litigation and Trial.