Greetings from Sundance
by Jamison Koehler on January 25, 2014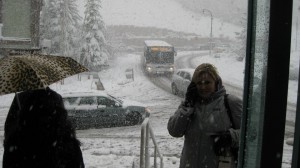 My wife and I are in Park City, Utah, for the Sundance Film Festival.  It is the fourth time "festing" for Susan. She was here before in connection with The  Ghosts of Abu Ghraib and The Invisible War. And she came two other times for the skiing. But this is a first for me.
We had planned to be here with our children, but two of our kids couldn't get away from work and the third never really wanted to come anyway. So it is just the two of us on the slopes, our improved skiing skills offset by the effects of advancing age. There comes a point in your life when you just don't want to fall down any more.  You can never be sure you will make it back up again.
We get up early on the first morning to get tickets to the movies we hoped to see (Mitt, Infinitely Polar Bear, Last Days in Vietnam). But we cannot compete with the hard-core moviegoers — one person tells us she has been to 22 movies during her time at the festival – and there are people with sleeping bags far ahead of us in line.
We settle for a couple of dark dramas on our first day:  Sleepwalking and War Story.  I can forgive a couple of slow, atmospheric shots in which you can't quite be sure what you are seeing and nothing actually ever happens.  But a whole movie like that – as in War Story with Catherine Keener – wears on your patience. It is like a lawyer looking for the knockout blow during a cross-examination.  It is the film-maker saying look at me, look at me!  A number of people leave well before the movie is over.
There are few celebrities still around during the second week of the festival.  And, no, there was no sighting this year of Robert Redford.