Aspiring to Be A Good Lawyer (and Person): Keith Lee's "The Marble and the Sculptor"
by Jamison Koehler on November 5, 2013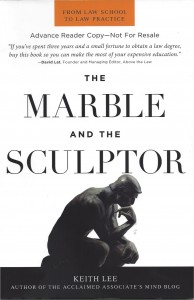 When I started law school back in 2003, I read a number of "how-to" books on going to law school.  There are many of them out there with all sorts of advice on outlining cases, preparing for exams, interacting with professors and your fellow students, and so on.
The one book I wish had been available to me back then is something that is being released today through Amazon:  Keith Lee's The Marble and the Sculptor.  This insightful book does not just tell you how to do well at law school, although there are plenty of tips on that.  Instead, it tells you how to be a good lawyer.  In fact, its lessons are applicable to anyone starting a new profession.
Lee writes well, with plenty of anecdotes and quotations, and the book is easy to read.  I polished it off in an afternoon.  Although he draws liberally from his own experience (I was particularly intrigued by his martial arts training), he accomplishes this not in a self-serving or smug way but as a way of making the book accessible to the reader.
The chapters are short and sweet – almost like blog entries — and devoted to a simple theme.  My favorite is entitled "The Privilege of Being A Servant."  Writes Lee:
[Being a lawyer] is not glamorous; it is a solemn vow of service.  It is one of the great unknown truths to many who enter the profession.  Being a lawyer is not a grand role, nor is it a central one.  Lawyers are adjuncts.  They exist in support of other people and causes.
I often think of lawyers as samurai, as in its original intent – "those who serve in close attendance to nobility."  While it is unlikely that a lawyer will have nobility as clients, the role of a servant in close attendance strikes me as an apt one.  That's what you are as a lawyer.  A warrior who fights for others, those who cannot battle for themselves.  It is not an exalted role.  It is an inferior one.  It is deliberately placing others' needs ahead of your own.  Lowering yourself so you can allow others to rise up.  You are not the master, you are the servant – and it is a privilege to be one.
This is not pedantic.  Instead, Lee uses the same participatory and inspirational tone that underlies the success of his Associate's Mind blog:  We are all fortunate to work in a great — though challenging — profession.  Let's all do a better job of it.