Waiting for Helen (A Short Story)
by Jamison Koehler on June 2, 2013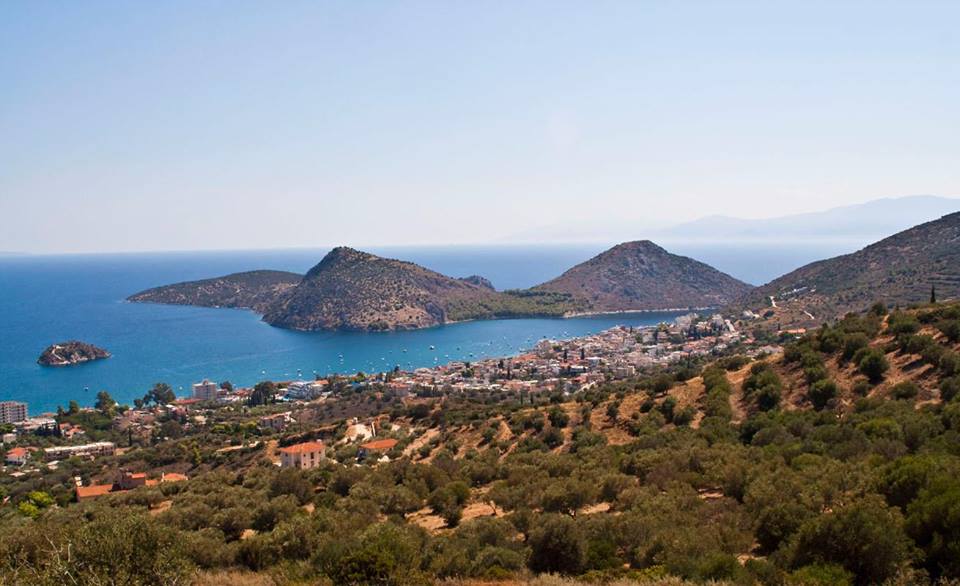 I am searching for the perfect woman. I am reading an article on ancient Greece, and I am studying the glossy pages for a picture of Helen of Troy. I need to know what she looked like. My girlfriend Ellen is fretting about our hotel reservations and the quality of our accommodations. She is convinced my Greek friends won't like her.
"What if they've changed?" she asks me as our plane nears the airport in Athens, the dirty, green-spotted mountains a rising blur in the window behind her. "What if they are not at all like you said they would be?"
"Don't be silly," I answer. "Of course they will like you. What is there not to like?" I slip the in-flight magazine into the pocket of the seat in front of me, and think of the putter of fishing boats returning to the harbor at Tolo. I imagine the shallow sea, water the color of a peacock and sand exploding between my toes like a thousand tiny atom bombs that mushroom to the surface. I think of Stavros and the others lined up in a Greek dance at the bouzouki, their bodies stiff-armed and rigid at the line moves sideways to the beat of the snare drum, the placement of their feet methodical and sure among the broken plates on the floor.
* * * * *
One time, during my second or third summer in Greece, we played a practical joke on our friend How Bou You. How Bou You's real name was Yiorgos. We called him How Bou You because of the way he approached English-speaking women on the beach. "How are you?" is what he meant to say but it never quite came out like that.
How Bou You was almost forty, a good twenty years older than the rest of us, but he fancied himself a Casanova and often tagged along with us evenings to the bouzouki nightclub at the outskirts of town. That is, of course, when Stavros lined up a group of foreign women. Even then How Bou You didn't actually join us. He would sit at a table nearby, watching our movement to and from the dance floor with this grim look on his face.
One afternoon we were hanging out at the post office when someone discovered this post card that had been sitting around unclaimed for months annoying Postman Vaso. So Stavros scratched out the address and wrote in How Bou You's name in care of the post office.
How Bou You arrived a couple of days later to pick up his mail. He parked his three-wheeled motor scooter at the bottom of the mountain and hiked his way up to the one-room house that served as the village post office. He was short, squat, with a large eyebrow that stretched across the entire breadth of his face, and he was breathing heavily by the time he made it up the mountain, his sandals slipping on the stony path. I was sitting on the front stoop with Postman Vaso when he arrived. How Bou You smiled when he saw me and I stood up to greet him.
"How bou you, Tommy?" he said, my hand disappearing into both of his. "Are you enjoying your time in Greece?" He said this every time he saw me, although I had been coming to Tolo every summer since I was thirteen.
Stavros stepped outside with the postcard. "Yiorgo," he said to How Bou You in Greek. "This is for you. It arrived yesterday from France."
How Bou You flipped the card over a couple of times, puzzled. "It's in French," he said.
"No problem," Stavros said. "Tommy speaks French. Tommy, read the card to Yiorgos."
"Me?" I said in English.
"Yes, Tommy," How Bou You said, handing the card to me. "Read it to me."
The card was from the South of France, from Annecy. There was a stone bridge and a lake with ducks and people. I turned the card over. Stavros had done a lousy job of imitating the original handwriting. The ink was even a different color.
"Dear Yiorgos," I read but I hesitated.
"It says she loves him doesn't it?" Postman Vaso prompted.
How Bou You was impatient. He assumed I was having trouble with the translation. "Go ahead, Tommy," he said. "Read it."
"My dear Yiorgos," I said, beginning again. "It's been many nights since we were together . . . many, many nights . . . too many nights . . ." Postman Vaso was hiding a smile. I picked up the pace. I also imitated a French accent to make it seem more real. "I miss you . . . I love you . . . I can't live without you . . ."
Even Stavros was smiling now. "Bravo, Yiorgo," he said.
"Bravo, Yiorgo Casanova," echoed Postman Vaso.
How Bou You was trying to hide his pleasure, and his surprise. "Is that all she said? What's her name? Is she coming back?"
"Her name is Helene," Stavros said, "and of course she's coming back. There's a P.S. She's coming next Tuesday, on the morning bus. She's expecting you to meet her."
I handed the card back to How Bou You. His mouth was open. "Helene," he said to himself. "It's strange. I don't remember her."
"Bravo, Yiorgo," Stavros repeated.
"Bravo, Yiorgo Casanova," echoed Postman Vaso.
* * * * *
I'd forgotten about How Bou You and the postcard from France by the time Tuesday came around. I was heading down town around the time the morning bus from Nafplion was expected to arrive, when I came across these small groups of people, mostly men, gathered in the street near the bus stop. How Bou You was sitting at a table in front of Yianni's café, sipping a Greek coffee amd reading a newspaper. He wore a fresh pair of pants, and his hair was wet from a shower. He seemed oblivious to the activity, unusual for this time of day. Stavros and the others were scattered around a group of tables at the other side of the café, their feet pushing at the chairs around them. They were smoking and arguing.
Postman Vaso came over to meet me. Tommy, he said. The French woman returns today. I followed him to the other side of the street where we sat on the steps of his grandmother's house and surveyed the scene in front of us.
The bus was right on time. Tolo is at the end of a road from Nafplion, with sea on two sides and a mountain behind. We watched as the bus rumbled over the hill by the ancient ruins at Asine and down the straight road toward us, past the beach and hotels on one side and the bouzouki nightclub and grass-less soccer field on the other. I glanced again at How Bou You before the bus blocked our view. He was still absorbed in his newspaper.
The bus stopped in front of Yianni's café, a cloud of dust billowing past. Through an open window of the bus, next to the morning sun reflecting off the glass, I could see movement inside. People were pulling their bags down from the rack overhead and working their way toward the front. Postman Vaso and his grandmother were motionless beside me.
The bus pulled away, leaving a group of young Germans – tall, tanned and unshaven – wrestling with backpacks by the curb. Other than that, the scene was unchanged. How Bou You read his newspaper. Stavros and the others were still sprawled out on the other side of the café but the argument was over and no one moved. It was like a play in which we had all forgotten our lines. Finally, How Bou You drained his coffee cup and folded his newspaper in two with a slap on the table. As he climbed to his feet, stretching the stiffness out of his legs, his head seemed disproportionately large, like a dwarf's. His movements were slow and deliberate, and his face was serene, almost thoughtful, as he crossed in front of us and started down the road toward Asine. The air was dry and completely still. We sat there long after he had gone, the buzz of cicadas rising in the mountains behind us.
* * * * *
Tolo has changed a lot in the seven years I've been gone. Hotels have sprung up on both sides of the road heading into town, and the center of town buzzes with activity from dawn until well after midnight. The Greek vacationers from Athens, the German and French backpackers, and the British secretaries have been replaced by an older crowd from Eastern Europe. Stavros says the village no longer has the problem of topless bathers at the paralea.
Ellen and I stay for two weeks. We get up early each morning and have breakfast at the hotel where Stavros has put us up, sitting in the dining room among the Czechs and the Poles, enjoying our coffee with freshly baked croissants. We spend most of the day at the paralea, hiking down to the near end of town where the beach has more sand. We usually stop in for a drink before dinner at Yianni's café, then join Stavros and his wife Elenie at a restaurant for dinner.
"Our Casanova days are over, aren't they, Tommy?" Stavros says to me one night at dinner, looking over at Ellen making conversation with Elenie. "We have found the perfect women, both of us," he says. "Or don't you think?"
Apart from Stavros, who has taken over his family's restaurant and hotel business, I don't see much of my friends. Postman Vaso has married a Greek woman from Argos, and has moved to Nafplion, where he works at his father-in-law's travel agency. "Yia sou, Tommaki!" he shouts to me from his moped, his young daughter clinging to him from behind. Stavros is polite, solicitous, but without our common pursuit of foreign women we find there's not much to talk about.
Ellen and I take a couple of day trips to visit the ruins nearby. Borrowing Stavros' Alfa Romeo, the car that used to belong to one of the colonels in the Greek junta, we set out early in the morning for the walled ruins of Tiryns, the V-shaped canal at Corinth, and the rows of seats rippling like breath on the water at Epidavros. On the drive back from Mycenae, we stop at a carnival on a parking lot in Nafplion. While Ellen visits the restroom, I pay a gypsy fortune-teller a thousand drachmae and ask her to foresee "Tom" in Ellen's future. "I'll bring her by in just a moment," I tell the woman.
The gypsy's teeth are the color of old newspaper. "You needn't have said anything," she says with a wink, the bills disappearing into her brown hand. "It has already been seen."
I make it back to the row of port-a-johns just as Ellen emerges from one of the toilets. "So what do you think?" I say as she reaches up to kiss my cheek, her mouth sticky from cotton candy. "Do you still want your fortune read?"
Ten minutes later Ellen's fortune has been delivered, and I watch Ellen and the old woman as they emerge from the tent. They lean toward each other, whispering and laughing with new-found familiarity. Ellen's smile fades when she sees me, and she turns her face away from me when I reach over to kiss her. "You don't know when to leave things alone, do you?" she says, and her voice has this even, unfamiliar tone that reminds me of a schoolteacher.
I mean to answer but she gestures toward the shade of a large tent where the merry-go-round has begun again. "I want to go on that," she says. "It's been so long since I've been on one." The uneven clank of the cow bell and the beat of the bass drum shake the dry earth beneath us. I study, from behind, the curve of her cheek as it rises to meet her eyes, and think of the Scandinavian women we used to meet at the bouzouki.
Later, lying on my back in the darkness of our hotel room in Tolo, I turn toward Ellen's black shape on the twin bed next to mine. "That fortune teller betrayed me, didn't she?" I say, and my voice has the eagerness of a teenager.
Ellen is quiet for a moment. Then, her voice soft, sympathetic: "Nobody likes to be tricked," she replies.
I wait, expecting her to say more. A telephone is ringing in the reception area down the hall. Stavros, who normally sits at the front desk in the evenings, must be upstairs, attending to another client. "The East Europeans are even worse than the Athenians," he has complained. "They hang out at the hotel all day asking for room service." Outside our open window, a tour bus pulls out from the curb, and I can hear the closing twangs of a bouzouki and the cheers of the tourists in the restaurant across the street where young Greek men must be finishing the last steps of the hasapiko.
The telephone stops ringing, and suddenly it is quiet – so quiet I imagine Ellen blinking in the darkness. Hair scratches the cotton sheet by my ear as I move my head to listen again, but there is no sound coming from her bed.
* * * * *
On the day before we are to leave, Ellen and I hike the mile out to How Bou You's farm. Ellen has forgotten about the fortune-teller, or at least I think she has, and we laugh about a group of young Greek men at Yianni's café calling out to the foreign women passing in the street. "Are you married?" we hear one of the men call out. "Never mind. I am not the jealous type."
How Bou You's farm is off the road to Nafplion, a quarter mile past the hill where the ancient ruins of Asine look down over Tolo. How Bou You spots us coming over the hill and meets us at the gate, his smile wide, embracing. Lines are etched into the leathery skin around his mouth, and his teeth are stained brown from tobacco. Age has accentuated every flaw in his features.
"Tommy," he says. "I heard you were back. It's so good to see you." His English has gotten much better.
The tourist dollars have been good to him, and he takes Ellen's arm and leads us around the farm. We examine the new irrigation system, complete with pump and electricity, and the additional land he has bought reaching right up to the ruins.
"It was here at Asine," How Bou You says, "that Agamemnon and the other Greeks camped before sailing for Troy. But that is according to legend, a single mention in The Iliad, so you can't be sure it's true."
Afterward we sit under a shelter he has built on a clearing among the trees and drink Greek coffee along with orange syrup diluted with water. He has collected apricots in the bottom of his shirt and he brushes them off with his hand for Ellen, checking each one first for bruises.
"Yiorgo," I say. "A handsome man like you and still not married?"
How Bou You laughs. "No," he replies. "Still no wife for Yiorgos." He sips again from his coffee. "You should be happy you found an American woman. I could never marry a Greek woman. Too demanding. Too foolish."
He turns his attention to Ellen, his face suddenly somber. "I had a girlfriend once, from France," he tells her. "Her name was Helene, and we loved each other very much." His voice is even, methodical, as if he has rolled this over in his mind, or told this story, many times. "But it didn't work out," he continues. "She returned to France. I stayed here on my farm."
I too am watching Ellen. She is hunched toward him with her elbows on her knees, her face concentrated, pretty with concern. Her hair has gotten blonder from the sun, and she brushes back a strand from her face, an uneaten apricot cupped like a ping pong ball in three fingers of her other hand.
How Bou You smiles. "But I am boring you," he says and looks back at me. "We had some good times, didn't we, Tom?"
Afterward we thank How Bou You and he walks us out to the road. "Come back and visit," he says to us, pushing the metal gate closed behind us. "You mustn't forget good times, or your friends."
Ellen and I start back up the narrow road toward the village. I look back when we reach half-way up the hill to wave goodbye but How Bou You has already turned and is heading back toward the shelter. I can see the rolled up legs of his trousers as they disappear into the leaves of the apricot trees.
Ellen and I continue up the hill. The red-tiled roofs of the village are just coming into view when Ellen steps in front of me, playfully, and we stand on the cracked pavement facing each other, the crushed fruit beneath us pungent in the late morning sun. Behind her, I can make out the old post office, the bell tower and steeple of the Orthodox church and, higher on the mountain, the crumbling remains of a German outpost from the war.
"Tommy," she says, surprised by something she has seen on my face. "Is something the matter?" She holds her hand out toward me, the palm upward, her fingers curling open like a flower.
I mean to answer her, to reassure her. I mean to take her outstretched hand and pull her damp, healthy body against me. I mean to tell her that she is the perfect woman for me. But my bowels are cramping from the caffeine, my skin is sore from the sun and sand, and I'm distracted by the memory of Ellen and the old woman coming out of the fortune-teller's tent, their heads together in laughter, Ellen's smile cold when she saw me. I think of How Bou You's French girlfriend Helene sitting at the front of the bus as it rose to the top of this hill by Asine, peering through the dirty windshield for a first glimpse of the village and sea coming into view below. I think of How Bou You's French girlfriend standing in front of Yianni's café as the bus pulled away, stretching the stiffness out of each leg and smoothing the wrinkles from her summer dress with quick, straight-fingered strokes of her hand.
This time I remember being on the same side of the street, sitting with How Bou You and the others at the group of tables pushed together. We are laughing at something Postman Vaso has just said, young men squinting in the late morning sun, enjoying each other's company. The French woman looks out across the street with her back toward the café. Her hair is pulled back into a bun on her head, and the skin on her neck is smooth and not yet burned from the sun. She does not see How Bou You rising from his chair to greet her.
© Jamison Koehler (Re-Published From The South Carolina Review, 2000)