Getting Better With Every Generation
by Jamison Koehler on May 23, 2013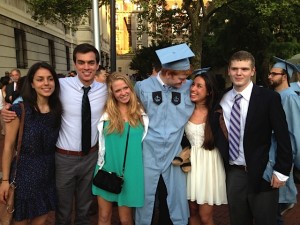 Less is always more when it comes to a speech. And it is usually a good idea not to forget who your audience is.
One of the best speeches I ever saw was a eulogy delivered by William Ruckelshaus. If you did not know who Ruckelshaus was before the eulogy, you could not have figured it out from what he said. He never once said a thing about himself.
But I am too critical. Other than a speech or two that went on a bit too long, the ceremony for my son's graduation — from the engineering school at Columbia –went well. My son is pictured here with siblings and some of his cousins.  The kids are living proof that we get smarter and better-looking with every generation.