Stuck in Time, Stuck in Fashion
by Jamison Koehler on January 25, 2013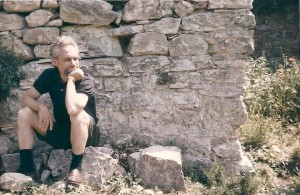 My father used to wear black socks with shorts. As his fashion consultant, I told him he shouldn't do this. Dad, I said to him. You can't wear that. It looks awful.
My father seemed kind of surprised when I said this. Here, I said, taking out a pair of white socks from my suitcase. Take these. Put them on.
To my father's credit, he listened to me. He wore those socks. But, Depression-era child that he was, he never bought himself another pair. As a result, those white socks got pretty old. If you looked in the top drawer of his bureau today, I am pretty sure you would find that same tattered and graying pair of socks still there.
Here is my theory on this: Men get stuck in a fashion that was in vogue at the time they were a certain age. And that age is when they were young and at the height of their attractiveness. Although I am not able to verify this, I assume that, in my father's case, all the men were wearing shorts and dark socks sometime during the 1930s.
The defining time period for me was the early 1980s when thin ties and thin belts were all the rage. If given the choice, I will still go for the thin tie. Every time. No matter how unfashionable it becomes. Because, at one time in my life, 50 pounds lighter and a long time ago, I looked pretty damn good in that thin tie.
More like this:
The Ties Will Last You Forever