Robert A. Caro on the Oval Office
by Jamison Koehler on January 21, 2013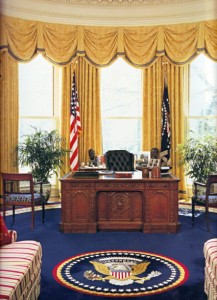 In The Passage of Power, Robert Caro's fourth book in a five-part series on The Years of Lyndon Johnson, Caro describes Johnson's actions upon assuming the presidency after the Kennedy assassination. Here is a brief excerpt from the book describing the Oval Office.
And, at last, he was in the President's office.
There hadn't even been an oval-office in the White House until 1909, when one was built as part of William Howard Taft's expansion of the West Wing, and that one had been in a different part of the building. The room into which Johnson walked on Tuesday morning had been created only twenty-nine years earlier by Franklin Roosevelt, who in 1934 had the President's office moved to the West Wing's southeast corner, from which it was easier to roll in his wheelchair to his living quarters in the Mansion, and who, working with the architect Eric Gugler, designed the room himself.  As soon as John Kennedy had left for Texas, it had been redecorated with a red carpet and red-trimmed white drapes, ordered, as a surprise for her husband, by Jackie Kennedy . . .
. . . the room seemed special mostly because of what had happened in it.
History had happened in it. Franklin Roosevelt had sat at that desk in front of the flags and windows bantering with reporters as he guided a nation through a great depression and a great war; hidden below the desk, his paralyzed legs. Harry Truman had stood behind the desk to announce Japan's surrender, had later placed on it the plaque that said "The Buck Stops Here."  Television had made the nation familiar with the setting – the President at the desk, flags flanking him – as a grim-faced Eisenhower announced in 1957 that he was sending troops into Little Rock or, smiling his wonderful smile, stood behind the desk, bantering with the  press corps, or as Kennedy, sitting at the desk, told the nation about the missiles in Cuba, or leafed through papers while his little son peeked out from the desk's cubbyhole. The room had an aura of great events. And since the desk of all four Presidents who had occupied it – Roosevelt, Truman, Eisenhower, Kennedy – had been placed at one end of the oval office in front of the tall windows and the tall flags, over three decades the setting had become emblematic of the presidency. So familiar was it becoming by November, 1963, thanks to Kennedy and television, that journalistic references to the office were changing fast. The room was, in fact, well along the road to becoming simply the capitalized, iconic "Oval Office," perhaps the most famous room on earth.