Judge Epps Now Handling DUI Calendar
by Jamison Koehler on January 18, 2013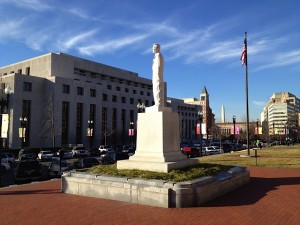 I just made my first appearance in front of Judge Diana Epps in Room 116.  She took over the DUI calendar for D.C. Superior Court last month after Judge Knowles was sworn in as associate judge.
Based on my experience with Judge Epps through probable cause hearings in JM-15, she seems to be genuinely sympathetic to many of the issues confronting defendants. As a former prosecutor, she can also be expected to hold the government accountable for making its case. Tom Key, for example, just won an acquittal on the basis of a Jencks violation. (The officer claimed to have written his notes on his hand.  He then washed that hand.) Defense lawyers will now have to decide whether or not to take their chances in front of her or to ask for an associate judge at trial.
Born and raised in Washington State, Judge Epps graduated from Cornell University and received her law degree from the State University of New York at Buffalo. She clerked for the New York State Fourth Appellate Division in Rochester, New York, before moving to the District to accept a job with the D.C. Office of the Corporation Counsel. While working in the Juvenile Division, she volunteered as a mentor-tutor to local high school students. She also served on a city wide-multi-agency committee whose goal was to design and develop alternative community-based programs for juvenile offenders.
Judge Epps joined the United States Attorney's Office for the District of Columbia in 1991, prosecuting cases in both D.C. Superior Court and the U.S. District Court for D.C. She was appointed D.C. Superior Court Magistrate Judge in 2003.