These Are People's Lives We Are Dealing With
by Jamison Koehler on October 21, 2012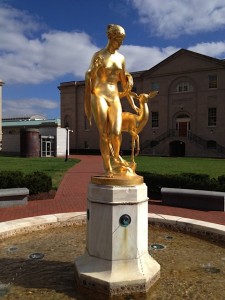 The urine test comes back negative for alcohol, and I chuckle at my newfound belief in the accuracy of the much maligned urine tests. I wonder briefly how the police officer will explain the notations in his paperwork about the smell of alcohol on my client's breath. And I conclude that my client's supposed admission to having drunk alcohol shortly before the stop must be the first time in history that a suspect has claimed to have drunk more alcohol than she actually has.
Then I turn my attention to other things because I assume the charges will be dismissed. Because, after all, wouldn't you?
But I am wrong:  The case is not dismissed at the first status hearing. The prosecutor in the room tells me that there is no notation on the file and that I will need to speak with the assigned prosecutor. So I take a two-week status date.
The prosecutor does not return my emails and when I try to call her, first directly and then through the switchboard, the phone rings five or six times and then goes silent. There is no way to leave a message. I find out later that if I had been able to reach her voice message, I would have learned that she was on vacation and that I should speak with a particular colleague in her absence.
A couple of days later, I see the assigned prosecutor in another room — apparently she is back from vacation! – and I ask her about the case. But I understand. She has many cases. She is harried, and she doesn't have the file. She promises to check my emails and get back to me.
On the next status date, the assigned prosecutor has still not gotten back to me or marked the file, and the prosecutor in the room is again clueless about what to do. So I take a trial date this time, and I get a little cranky when the judge asks me to put the terms of the guilty plea offer on the table. There has been no offer, I tell her. There has been nothing at all.
We are now set for trial in a case with a negative urine test and a perfectly documented medical explanation – already provided to the prosecutor – for why the police officer may have mistakenly assumed intoxication.  Part of me just wants to try the case – how often do you get to defend against such a lousy case? But there are always risks of taking anything to trial, and you cannot measure the emotional distress the approaching trial will cause my client.
The prosecutor and I finally communicate by email. I am cranky. I tell her she has acted unprofessionally. I remind her of 3.8(c) of the D.C. Rules of Professional Conduct:  "The prosecutor in a criminal case shall not prosecute to trial a charge that the prosecutor knows is not supported by evidence sufficient to establish a prima facie showing of guilt." And, just for good measure, I throw in the gratuitous and sanctimonious admonition that "these are people's lives that we are dealing with here."
The prosecutor is equally cranky in responding. And defensive too. She tells me she will get back to me. Again the case goes into a state of limbo, and my client must continue to live with the cloud of criminal charges looming over her. Some people are better at dealing with this than others.
The fact is, the prosecutor and I both suffer from the same affliction. We are so used to the system that we have become inured to the petty injustices, the delays, that happen every day in almost every case. No matter how busy or jaded we become, we sometimes need to step back and imagine ourselves in the shoes of someone who has never been arrested before but who, because of a completely understandable mistake, ends up facing the tremendous power of the state arrayed against her. And if the system continues to fail her even after all of the facts have become known to the prosecutor, how is she to believe that the system won't fail her again at trial? That I know better and can try to re-assure her is no consolation.
There was a woman my age in Philadelphia who graduated from law school the same year as I did and who started at the prosecutor's office at the same time I began with the public defender. You knew that you could go to her with a ridiculous case and she would dismiss it. Then and there. You are right, she would say. This is not worthy of our time. And it is not worthy of the court's time. We have bigger fish to fry. You also knew when she didn't offer you the deal you wanted that the government had a pretty good case. You and your client might want to think about this when considering the plea offer.
There are many Assistant U.S. Attorneys like this as well. They tend to be older, with perspective and life experience. Working on the misdemeanor rotation until they can move on to bigger and better things, they realize when something is important. And they understand when a case just needs to be thrown out. They feel no need to cover their tracks lest someone down the road – a supervisor perhaps – questions their judgment.
As it is, the prosecutor in a case like this will often take no action at all. He or she will leave the case on the trial calendar, knowing full well that the police officer, too embarrassed to appear, will find some excuse not to come. The defense lawyer will spend many hours preparing for trial. The defendant will take off another day from work or school. And the court will set aside time for the trial. But nobody can point a finger at the prosecutor when the case is dismissed because, after all, it was the police officer's fault for not showing up. Or it was the court's responsibility for granting the defendant's motion to dismiss.
Once the case is dismissed, the defense lawyer will pack up his bags and stride out of the courtroom. You see what a good lawyer I am? The defendant herself will be too relieved to cry foul. But she will leave the courtroom with this lurking feeling that she has just been violated. And she will be right: This case should have been dismissed a long time ago.
I have done things as a criminal defense attorney I am not proud of. I think, for example, of the many times I have stood across the courtroom from an upstanding police officer or citizen and given them a hard time. But this blog entry is about prosecutors, not defense attorneys, and the question I have for anyone who has ever worked as a prosecutor is this:  Do you see yourself in this blog entry? And, if so, do you like what you see?
More like this: