Surviving Frankenstorm
by Jamison Koehler on October 30, 2012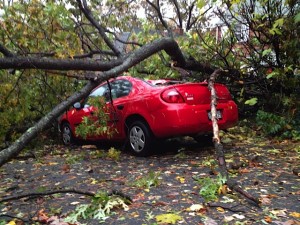 The security guards laughed at me when I showed up yesterday morning at the court building, flapping my umbrella so that I wouldn't get the conveyor belt wet. "You don't listen to the news?" one of them asked.
I have a couple of routines I do to amuse the guards.  One is to do my James Brown pivot when asked to turn around for the wand, stopping short only of the "so good" grunt and split.  Not this time. "I have initial hearings today in JM-15," I said.  "The paper said arraignments are still being held."
They laughed some more.  "No arraignments today," they told me.  "No initial hearings.  Everything is closed.  You hadn't heard we are expecting a hurricane?"
Today we are camped out at my in-laws' house in Virginia enjoying the heat and electricity.  One of our trees took out the power lines last night — as well as a neighbor's tree and two cars.  Someone said something about a hurricane?
According to the news, arraignments and initial hearings were to begin again this afternoon, with regular operations resuming tomorrow.