Lawsuit Alleges Church Cover-Up of Child Sexual Abuse
by Jamison Koehler on October 17, 2012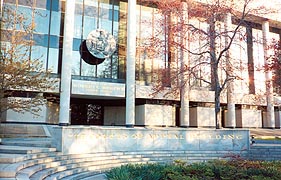 "No institution can put its own financial concerns above the needs of vulnerable children."
So says my wife Susan Burke, as reported by the Associated Press, in connection with a lawsuit she filed today in Maryland state court.  The lawsuit charges Sovereign Grace Ministries, an evangelical church with 100 congregations in 21 countries, with covering up allegations of sexual abuse against children, failing to report accusations of misconduct to the police, and discouraging its members from cooperating with law enforcement.
The Associated Press reports:
One of the three plaintiffs, a high school student in Virginia, alleges she was sexually assaulted when she was 3 years old and that the mother of the boy who abused her revealed the molestation to the church. But church officials discouraged her family from reporting the allegations to police and, instead, repeatedly interviewed the alleged abuser and worked with him and his mother to determine how best to prevent any prosecution and publicity regarding the abuse.
A second plaintiff, a college student in Maryland, says she was sexually abused as a toddler by a church member. She says the church pastor scolded her parents after they called the police and then tipped off the accused that he had been reported to the police. She says her parents were instructed to bring her to a meeting with her alleged abuser so they could be "reconciled," but that she was "visibly scared and crawled under the chair" after being brought into the same room with him.
The third plaintiff says her adoptive father, a member of the church, sexually abused her older sister for three and a half years. She says the church warned her mother not to pursue a prosecution, then kicked the family out of the church and denied the children reduced tuition to the school. The man was ultimately prosecuted and imprisoned, the lawsuit says.