Here's Hoping for a Comeback by Washington Redskins' Receiver Santana Moss
by Jamison Koehler on September 3, 2012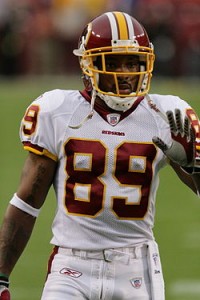 Wide receiver Santana Moss of the Washington Redskins has a lot in common with Steve Smith of the Carolina Panthers.  Born in 1979, both receivers joined the NFL in 2001, with Moss selected in the first round of the draft and Smith in the third.  Although blessed with good speed and soft hands, both are relatively small.  (Moss is listed at 5'10', 190 pounds and Smith is 5'9", 198 pounds).  Both receivers are known to be hard working team players who can block almost as well as they catch.  And, if there are any other parallels, I am hoping that Moss will enjoy a comeback this year similar to the resurgence Smith experienced last year.
Two years ago, Steve Smith had the worst season since his rookie year, leading some to believe that his time in the NFL might be coming to an end. Although he still led the Panthers in both receptions and receiving yards, his production had dropped considerably, from 65 receptions and 982 yards in 2009 to 46 receptions and 554 yards in 2010. His number of touchdowns was down from 7 to 2. The problem was a total lack of team offense under rookie quarterback Jimmy Claussen and struggling coach John Fox who was on his way out the door.
Then came Cam Newton, a talented and mobile quarterback selected in the first round of the 2011 draft, and suddenly Smith was looking like the player of old. He had 79 receptions accounting for 1,394 cards and 7 touchdowns, making me wish I hadn't ignored him in last year's Fantasy Football league draft.
Santana Moss' numbers from last year look an awful lot like Steve Smith's from 2010:  also 46 receptions but accounting for 584 yards instead of 554 and 4 touchdowns instead of 2.  Part of the problem was the broken hand that forced Moss to miss four games.  But the other part of the problem was the Redskins' lackluster passing game under Rex Grossman, then John Beck, then Rex Grossman.
Enter Robert Griffin III this year, the Washington Redskins' version of Cam Newton.  Although, with the addition of Pierre Garcon and Josh Morgan, Moss has now been relegated to the slot receiver position in passing situations, Moss has reportedly lost weight and is in better shape than last year. Here's hoping that the parallels continue and that Moss experiences the same type of rejuvenation Steve Smith enjoyed last year.