Addicted to Fantasy Football: Strategies for the 2012 Draft
by Jamison Koehler on September 7, 2012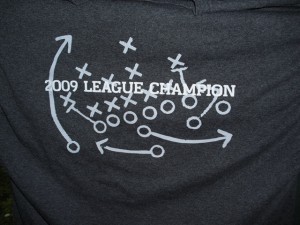 The NFL season got underway with the Giants-Cowboys game on Wednesday and with that comes Fantasy Football. Hot diggety dog. Fantasy football makes an already interesting game even more fun. It must be the added intensity that makes sports gambling so addictive.
The advice from Fantasy Football cognoscenti this year is that you should no longer use early round draft picks on running backs.  With the pass-friendly rule changes of recent years and many teams moving toward a platoon system for the running game, the feeling is that true success can now be had through quarterbacks and wide receivers.
Although I agree on the recent trends, I draw the opposite conclusion. Since there are now only a few teams that rely on a single running back to carry the load, this makes the running backs that play on those teams even more valuable than ever. It is for this reason that, in the auction drafts that I now prefer, I spent a significant percentage of the $200 allotted to me this year in getting two of the top three backs on the board:  Arian Foster, Ray Rice, and LeSean McCoy.
Value falls off considerably after those three. Chris Johnson, for example, has been a tremendous disappointment over the last couple of seasons notwithstanding his predictions for success this year. Maurice Jones-Drew held out until last week in a contract dispute. Darren McFadden is talented but injury-prone. And Ryan Matthews, Trent Richardson and Marshawn Lynch are battling current injuries.
After the top tier of running backs, what have you got?  Jamal Charles and Matt Forte will yield goal-line carries to Peyton Hillis and Michael Bush, respectively. Matt Turner, Steve Jackson, and Fred Jackson are all getting old. Reggie Bush plays with an anemic offense and a rookie quarterback. Darren Sproles will be splitting carries with Mark Ingram and Pierre Thomas, and DeAngelo Williams will share the load with Jonathan Stewart. And who knows who will be playing in the Redskins backfield?
I have never focused on getting myself a top-tier quarterback. Yes, it is always great to have Aaron Rodgers, Tom Brady, or Drew Brees on your team. But you are still doing well if you wait for Cam Newton or Matthew Stafford, followed by Michael Vick and either of the Mannings. And you can pick up Matt Ryan, Phillip Rivers, Tony Romo, Jay Cutler, or Robert Griffin III very late in the draft while using your early picks/funds on other positions. The difference in fantasy point production between the top 10-15 quarterbacks in the league is just not that great.
As for the wide receivers, there is only one receiver this year that stands head and shoulders above all the rest, literally and figuratively, and that is Calvin Johnson.  After Johnson, there are plenty of first-rate receivers with which to fill your three spots:  Larry Fitzgerald, A.J. Green, Julio Jones, Greg Jennings, Victor Cruz, Roddy White, Hakeem Nicks, Andre Johnson, Mike Wallace, Wes Welker, Dez Bryant, Jeremy Maclin, Jordy Nelson, and Percy Harvin.
I am predicting good things for Brandon Marshall now that he has been reunited with Jay Cutler in Chicago. Steve Smith should have another good year with the extraordinarily talented Cam Newton in his second year at quarterback. I am also predicting respectable production from a number of other receivers who can be picked up much later in the draft:  Antonio Brown, Pierre Garcon, Eric Decker, Stevie Johnson, DeSean Jackson, Torrey Smith, and Justin Blackmon. And, of course, every year there is a receiver such as Kevin Ogletree who comes out of nowhere to post big numbers. We'll see if Ogletree can ever repeat his performance from Wednesday.
Among the tight ends, Jimmy Graham and Rob Gronkowski have both been going very high in the draft, in some cases as first round picks. Even if either player is able to repeat last year's production, I still have to question the wisdom of foregoing a high quality player at another position for a tight end. Tight ends are generally inconsistent in their production, you only need one on your team, and the talent goes pretty deep.  After Graham and Gronkowski, you have Antonio Gates, Vernon Davis, Aaron Hernandez, Fred Davis, Jermichael Finley, and Tony Gonzalez. If you are counting, that makes nine. This means that in a 10-team league, you can wait until every other team has used one of its picks to select a tight end and still settle for Jason Witten, Greg Olsen, Jacob Tamme, Brandon Pettigrew, Kyle Rudolph, or Brent Celek.
As for kickers and team defenses . . . who cares?  I like to nominate a kicker or team defense in an auction league to watch other players waste their limited funds in a bidding war.  There are 32 teams in the NFL, and there is rarely little difference in production between one kicker or one team defense and another. Even when there is a difference, this difference varies from week to week. This means that I wait until the very end of the draft to select at either position.  And I can never understand why anyone would ever use two spots on the roster for either.
My younger son and I will be out at my in-laws' house watching NFL football every Sunday this fall.  Good luck to everyone, especially the Washington Redskins.