Another Meaningless Football Statistic
by Jamison Koehler on August 20, 2012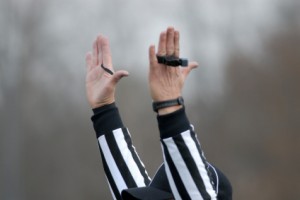 "Over the past two seasons the Raiders are 6-2 when McFadden rushes for at least 100 yards."
That is Sports Illustrated writer Jim Trotter writing about the importance of injury-prone Darren McFadden to the success of the Oakland Raiders pro football team.
It is an often-used statistic. And it is a statistic that is just a tad bit more meaningful than my favorite sports cliché:  "You have got to put points on the board if you want to win the game."  In other words, it doesn't say anything at all, at least nothing beyond the completely obvious.
Yes, some teams emphasize the pass; others the run.  But you are not scoring points if you are not moving the ball, run or pass, and there is a pretty good chance that you are scoring some points when you have a single running back accounting for more than 100 yards in a particular game.  You also tend to rush the ball more when you are ahead to run out the clock.
The statistic is just one step removed from pointing out that a team is 16-0 when it scores 50 points or more in a game.  Because, after all, you have got to cross that goal-line if you want to score a touchdown; you have got to score touchdowns if you want to win the game.
No kidding.