Constitutionality of D.C.'s "Post-and-Forfeit" Statute Upheld
by Jamison Koehler on April 3, 2012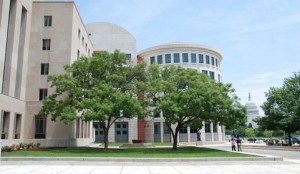 Know your rights. But be judicious about asserting them. That's what I always tell people. Don't go picking unnecessary fights with police officers. And don't go bringing stupid lawsuits. No matter how good a lawyer you think you are.
Hamilton P. Fox III was sitting in his car in a "no parking" zone waiting for his wife to come out of a nearby drug store. A police officer pulled up behind him and told him he needed to move his car. Fox – always the too-smart lawyer — pointed out that he was "standing," not "parking." Oh so right. Oh so wrong.
The progression of events after that point was completely predictable. Both sides got angry. Fox demanded to speak with the officer's supervisor. Backup officers arrived, and Fox was ultimately arrested and charged with a minor offense, in this case, "disorderly conduct – loud and boisterous" under D.C. Code § 22-1321(1).
After a few hours in a holding cell, Fox was given the option of paying $35 in exchange for his release under the District's "post-and-forfeit" statute. Under this program, a person who is arrested for a minor offense is given the opportunity to "post" and immediately "forfeit" a small fine in exchange for waiving his right to a hearing. The charges are then dropped without an admission of guilt. Although the charges will remain on the person's public arrest record, D.C. law also provides that a person can move to seal a public arrest record, either immediately upon an assertion of actual innocence or within two years after dismissal of the charges for most misdemeanors.
Fox could have apologized to the police officer for impeding traffic, and moved his car, circling the block until his wife came out of the drug store. If he felt he was arrested without probable cause, he could have refused to pay the $35 and challenged the charges in court. Alternatively, if he was concerned about being held in custody pending his appearance before a magistrate judge, he could have paid the $35 to secure his release and then moved to have the forfeiture set aside by filing a motion in Superior Court within 90 days.
He did not do any of this. Instead, he filed suit in the U.S. District Court for the District of Columbia alleging eight causes of action arising from his arrest — three against two of the police officers involved and five against the District of Columbia alleging violations of his Fourth, Fifth, Sixth and Eighth Amendment rights.
And we wonder why people hate lawyers so much.
It is a fun opinion to read. There is a reason that federal judges and clerks did better in law school than I did: They have a gift with language. They know that understatement is often the most effective way to deliver a punch:
…the challenge to the post-and-forfeit fails, although not for lack of trying. Plaintiff has now provided the Court with three different versions of a prolix complaint – each longer and more detailed than the one that came before. The matter has been briefed extensively, and the Court held a lengthy hearing. Yet plaintiff has yet to articulate just what it is that is wrong with offering someone charged with a minor offense the choice to contest the charge in court or to pay a small sum and go home.
The fundamental flaw at the heart of the plaintiff's case is that while his papers are generously seasoned with strong language connoting wrongdoing – "force," "coerce," "exact," "deprive," and "take," and the allegations all turn upon the city's alleged policy of "making arrestees pay money, there simply was no coercion, taking, or deprivation inherent in the voluntary exchange that was offered and accepted in this case. Moreover, plaintiff was fully apprised of, but elected to forego, his right to seek to set aside the forfeiture and contest the arrest.
Ouch!