Judge Knowles Now Hearing DWI Cases in D.C.
by Jamison Koehler on February 22, 2012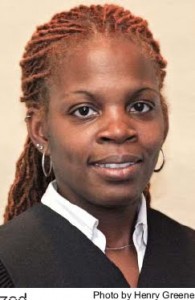 Magistrate Judge Kimberley Knowles is now presiding over DWI/DUI cases in Room 116 of D.C. Superior Court.  She takes over from Judge John McCabe, who was sworn in as Associate Judge in December.
Born and raised in the Bronx, New York, Judge Knowles received her Bachelor's degree from Cornell in 1992 and her law degree from Howard University in 1996.  She served as a judicial law clerk to Judge Eric Washington after graduating from law school, and then worked as an Assistant U.S. Attorney until she was appointed to the Court in 2010.
The judge refused to allow the prosecution to call an expert witness in a trial scheduled for this morning after the government failed to provide the required notice.  I also sat in on part of a breath test refusal case this afternoon.  We will have to see how she comes out on the Bullcoming issues raised by cases in which the government seeks to introduce a urine test.