Brian Gurwitz Represents White Supremacist
by Jamison Koehler on February 15, 2012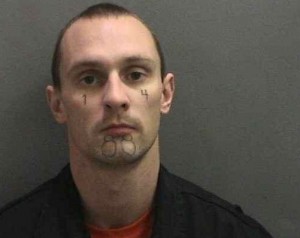 A former colleague in Philadelphia said that he was surprised, upon beginning work at the public defender's office there, how many clients asked him if he was Jewish.
"Yes I am Jewish," he said finally to one client.  "Why do you ask?"
"It's because I want one of those Jew lawyers," the client responded.  "I hear they fight really hard for you."
I was reminded of this story yesterday upon reading an article at the Orange County Weekly about our pal out in California, Brian Gurwitz. It turns out Gurwitz has been representing a white supremacist named Christopher Brown.
According to the Weekly, Brown is "a convicted felon, a member of a criminal street gang, a burglar, a thief, and, if the police are right, a violent white supremacist Skinhead."  The 88 tattoed on his chin is some type of code for "Heil Hitler" and the "1" and "4" under his eyes refer to the importance of maintaining racial purity.
Despite these views, Brown apparently does not allow his political views to interfere with his personal life.
While awaiting trial in a Santa Ana jail for hurling racial epithets during a robbery, Brown "fell in love" – i.e., had a sexual relationship – with a female prison guard who is African American:  "Sources tell the Weekly that the sex happened at least 20 times and included every type of intercourse imaginable.  The passion allegedly even took place inside a guard station."
But the major surprise, according to the Weekly, is that Brown "chose for his upcoming March trial a – drum roll, please – Jewish criminal defense lawyer."  This is where Brian Gurwitz comes in.  Writes the Weekly:
Tustin-based attorney Brian N. Gurwitz is a former high-ranking prosecutor who played key roles in the grand jury investigation into the Orange County Jail murder of John Derek Chamberlain, the Haidl Gang Rape trials and the corruption prosecution of Assistant Sheriff George Jaramillo.
I called Gurwitz and asked him if Brown knows he's Jewish.
"Of course," replied a laughing Gurwitz.
Gurwitz' involvement in this case brings to mind the African-American lawyer David Baugh who represented a member of the Ku Klux Klan in the famous free speech case, Virginia v. Black.  Like Chris Brown out in California, the Klan member apparently had no problem reconciling his political views with his personal interests.  Baugh says that, when he called the Klan member to offer his legal services, the Klan member accepted almost immediately.
"You do realize, sir," Baugh said, "that I am black."
"Yes, I know that," the Klan member replied.  "And I hear you are also a very good lawyer."