On Commies, Pinkos, Fags and Happyspherers
by Jamison Koehler on January 16, 2012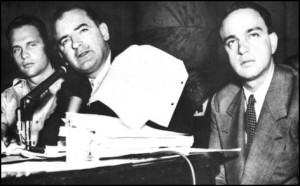 Mark Bennett coined the term "Happysphere" a while back, and it has now become a phrase that you need to throw into a blog entry every once in a while to show that you are a member of the tribe.  Use of the term doesn't require any imagination or thought.  As with the use of most slogans or epithets, that in fact is the beauty of it.
It doesn't matter that, with tones of George Orwell or Hannah Arendt, the terms sounds a lot like the type of categorizing/labeling of people even little children know they should never engage in. The important thing is that it creates a very helpful "us versus them" dynamic and yet another group of outsiders that members of the tribe can rail against.  After all, without us Happysphering flawgers, what else would people in the blogosphere wring their hands about?  A less charitable interpretation of the term would be to compare it to something I might have heard from one of my children; back, that is, before they hit puberty.
You start off as the rebel.  After a while, you realize you have become the establishment.