Kristin Henning to Spend Semester at Yale
by Jamison Koehler on January 19, 2012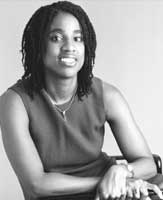 They warned us about her at the Public Defender Service.
On the eve of her presentation at the Juvenile CJA Panel training, they suggested we spend some extra time with our reading that night because Kristin Henning not only knew her Family Court rules, she would expect us to know them as well.  And, having spent much of her career working on behalf of juveniles who have been charged with a crime in D.C. — first as a Stuart-Stiller Fellow in the Criminal and Juvenile Justice Clinics at the Georgetown Law Center, then as lead attorney for the Juvenile Unit at PDS, and then back at Georgetown — she takes these things kind of personally.
Henning did not disappoint.  Younger than you might have expected given her credentials, she came into the classroom with a burst of energy and a Socratic teaching style that made us feel as if we were 1Ls again.  Since that time, sitting in the back of the courtroom or out in the hallway of the JM-level to supervise Georgetown law students, she has also served as a valuable resource for those of us with a question.
And now she is gone.  Spending the spring semester at Yale University, where she received her own law degree, she will be supervising students at the juvenile justice clinic there while also teaching two courses:  "Advocacy for Children and Youth" and "Innovations in Policing."
I complained, because nobody ever asks me for permission for anything.  She assures me she is still available by email and by phone.