Sizing Up Opposing Counsel
by Jamison Koehler on November 28, 2011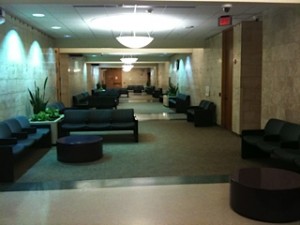 Opposing counsel's praecipe arrives in the mail. I am representing the respondent in a civil protection order hearing; he the petitioner.
I google the lawyer's name to find a self-made website and a less than professional photograph of the lawyer, taken by somebody with the same last name. In the photograph, the lawyer is standing in front of an ornate, legal-looking building. His name in the masthead is followed by "Esquire," and there are 20 words in his law firm motto, something about "trusted adviser" and "turning to the attorney other professionals turn to."
I am even less impressed when I meet him in person.
On the morning of the hearing, he tells me that he has been doing these things for 30 years and that he and the court clerk are very good friends. I am not quite sure what I am supposed to do with this information. But I do my best to look impressed.
A bomb threat empties the courthouse and then the judge has to leave the bench for a funeral. So the hearing is continued.
He talks more about himself as we walk out into the hallway. He also gives me a preview of the case he has built against my client. Seventeen exhibits! He says something vaguely derogatory about my client and speaks in glowing terms about the petitioner.
Save it for the judge, is what I want to say. I nod instead.