"A Surprisingly Good Day in Court" for Cioca v. Rumsfeld
by Jamison Koehler on November 21, 2011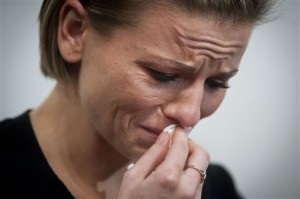 Over at the Daily Beast, Jessie Ellison describes three signs that the military might finally be forced to  "confront its rape epidemic."  First, Secretary of Defense Leon Panetta announced on Friday that he will issue "very direct guidance" in the coming months to reduce sexual assault in the military.  Second, a new bill introduced by Congresswoman Jackie Speier of California to strengthen protections for victims of sexual assault within the military had garnered more than 50 co-sponsors within 24 hours.  Finally, Susan Burke, the lawyer (also my wife) representing 28 plaintiffs in Cioca v. Rumsfeld, had a "surprisingly good day in court."
According to Ellison, Cioca v. Rumsfeld is a "landmark case" that charges former defense secretaries Robert Gates and Donald Rumsfeld with failing not only to take action on the problem but also ignoring congressional mandates. Writes Ellison:
[W]ithin the halls of the wood-paneled federal courtroom, Burke's battle showed similarly unexpected promise, with Justice O'Grady declining to grant the motion to dismiss, filed by Department of Justice attorneys on behalf of the Department of Defense, and shaking his head with apparent empathy as Burke detailed how some of her plaintiffs had been "forced to live alongside their rapists, forced to salute their rapists every day."
But O'Grady didn't dismiss the defense attorney's motion either – instead, he stalled.  "How do I get around what I believe is a clear mandate [from the Supreme Court] to not involve the court in what clearly are military oversight issues," he asked Burke.  "You understand my problem here?"
"I do, your honor," Burke responded.  "I understand that this is rocky terrain.  But rape and sexual assault are not incident to service.  It's nothing you sign up for.  I urge you to give it serious thought."  "O'Grady pledged to do just that, promising to deliver his judgment as soon as he could – likely within a few weeks, Burke estimated – but acknowledging that it wouldn't be "a pleasant task."  
Post-Script:  Although I am always the proud husband, Susan herself is not so impressed.  Progress on three fronts, I say to her after I've read the Newsweek piece.  Yeah, she says, these things tend to go in cycles.  Just think of the flurry of activity after Tailhook.  But where is the real change?