D.C. Area Teams Dominate Criminal Law Fantasy Football League
by Jamison Koehler on September 27, 2011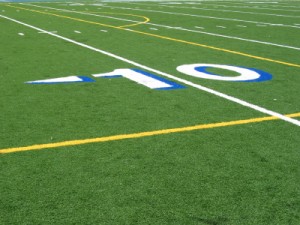 Congratulations to Michael Bruckheim for taking the lead after Week 3 of the Criminal Law Blog Fantasy Football League.  His victory over A Public Defender leaves him as the only undefeated team.
Bruckheim is followed by David Benowitz of D.C. Criminal Defense, Gideon of A Public Defender, and Brandon Barnett of Liberty & Justice for Y'all.  Benowitz has the most total points.
This week's "Who Are You Kidding?" Award goes to Koehler Law.  Being the only team without a win is particularly humiliating to me considering that I try the hardest.
Standings (Record, Points)
Brucklaw (3-0, 400)
D.C. Criminal Defense (2-1, 419)
A Public Defender (2-1, 373)
Liberty & Justice for Y'all (2-1, 350)
The Criminal Lawyer (2-1, 336)
DA Confidential (2-1, 287)
Not Guilty (1-2, 395)
The Defense Rests (1-2, 371)
Federal Criminal Appeals Blog (1-2, 357)
Law and Baseball (1-2, 296)
Tempe Criminal Defense (1-2, 249)
Koehler Law (0-3, 295)