Criminal Law Blog Fantasy Football: D.C. Teams One, Texas Teams Zero
by Jamison Koehler on September 13, 2011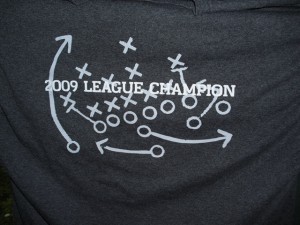 Brucklaw jumped out to an early lead in the Criminal Law Blog Fantasy Football League with a victory over D.C. Criminal Defense during week one.  He is followed by Not Guilty with 127 points and A Public Defender with 125.
Brucklaw did all sorts of complaining last season about how he hadn't been able to pick his team.  (He apparently missed the instructions about setting his draft order before the draft.)  The strength of his team this season shows there might have been something to that.  Not Guilty has been talking lots of smack.  So far she has made good on this talk with a victory over The Federal Criminal Appeals Blog.
The Better Luck Next Week Award goes to D.A. Confidential.  Apparently prosecutors (and Brits) don't know their (American) football.  Our Yahoo! host had given D.A. Confidential the award for best draft.  That shows how much they know.
Standings (Record, Points)
Brucklaw (1-0, 146)
Not Guilty (1-0, 127)
A Public Defender (1-0, 125)
Law and Baseball (1-0, 124)
Liberty & Justice for Y'all (1-0, 122)
The Criminal Lawyer (1-0, 115)
D.C. Criminal Defense (1-0, 129)
The Defense Rests (1-0, 117)
Tempe Criminal Defense (105)
Koehler Law (104)
The Federal Criminal Appeals Blog (101)
D.A. Confidential (100)