There Is A Reason We Still Love The Hogs
by Jamison Koehler on August 11, 2011
Joe Gibbs knew the value of the offensive line.  That's how he turned a washed-up running back from the Jets, John Riggins, into the Washington Redskins' all-time rushing leader with 7472 yards.  That's how he went to four Superbowls – winning three of them — with three different and fairly mediocre quarterbacks:  Joe Theisman, Doug Williams, and Mark Rypien.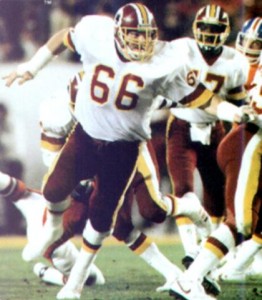 Sixth-round draft pick Mark Rypien, for example, was never any coach's dream-come-true. His passes wobbled, he had jumpy feet in the pocket, and his small hands made him unusually prone to fumbling.  Yet, protected by an offensive line that allowed him to be sacked a mere seven times the entire 1991 season, he went on to become the Superbowl MVP and a Pro Bowl selection that year.
Now compare Rypien's sack numbers with those of Jason Campbell and Donovan McNabb, both of whom were heavily criticized during their days behind Redskins' center.  In 2009, Jason Campbell was sacked a grand total of 46 times. Donovan McNabb was sacked the same number of times in 2010. Redskin quarterbacks were also hit what Mike Wise of The Washington Post has described as an "inhumane 110 times" last season.
For years I have been defending Jason Campbell to my two sons, telling them that he is a promising quarterback — mobile and with a strong arm –who just needs to be given some time in the pocket.  While my prediction of greatness for Campbell since leaving the Redskins has not (yet) come true, I was interested to read his recent comment to Mike Wise:  "So, you think they found out yet I wasn't the source of all their problems?"
So what is the source of the Redskins' current problems?
Not surprisingly, the problems the Redskins have experienced at offensive line coincide with Daniel Snyder's tenure as owner.  That's because offensive linemen are the least exciting players on the field.  And that's because we don't normally think of them as game-changing — not like Bruce Smith, Deion Sanders, Albert Haynesworth and all the other big-named and high-priced busts that Snyder has brought in.  After all, nobody had ever heard Russ Grimm, Joe Jacoby, Mark Mark, Jeff Bostic, or George Starke until they became the "Hogs."
Nor has Snyder been willing to address problems with the offensive line through the draft.  As Mike Wise points out, between the drafting of Chris Samuels in 2000 and Trent Williams in 2010, the Redskins have taken a "scant" two offensive linemen in the first three rounds of the draft.
In 1963, George Plimpton took a few snaps for the Detroit Lions during an exhibition game.  While Plimpton lost yards on every play, bringing home to the average armchair quarterback the difficulty of playing this position in the NFL, I am convinced that even he could have succeeded behind the Washington Redskins' offensive line during the 1980s.  I am equally convinced that no quarterback – not John Elway, not Tom Brady, not Peyton Manning – could succeed behind our current line. So let's stop criticizing Jason Campbell and Donovan McNabb and all the other quarterbacks who have struggled under Snyder's time at the leadership and lay blame where blame is due.