On Joining the Gay Marriage Bandwagon
by Jamison Koehler on August 1, 2011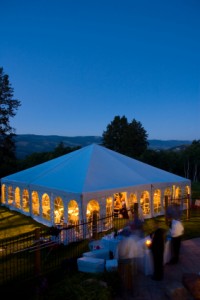 The Massachusetts Constitution affirms the dignity and equality of all individuals.  It forbids the creation of second-class citizens.
—            Massachusetts Supreme Court, Goodridge v. Department of Public Health, 798 N.E. 2d 941 (2004)
Back in the early 1980's, there was supposedly a list of environmentally-committed employees at the U.S. Environmental Protection Agency who then-Administrator Anne Gorsuch Burford wanted to get rid of.  I don't know if any such blacklist ever existed. What I do know is that this list, if it did exist, seemed to get longer every year with more and more people claiming to have been on it.
While I don't have the numbers to back this up, I have always suspected that the Civil Rights movement from the 1960's has experienced a similar phenomenon in recent years; that is, that more people now claim to have been actively involved with the movement than actually were.  It may have taken some courage to speak out back then when many of the rights we take for granted today were still under debate. It doesn't take a wit of courage to argue in their favor today.
I was thinking about all of this a couple of weeks ago when reading about the law legalizing gay marriage in New York. In typical fashion, Mirriam Seddiq was one of the more outspoken voices in favor of the new law.  She wrote that gay marriage serves as a litmus test for her:  "If you are against gay marriage, I probably don't really like you."
I don't take this quite as far as Seddiq. Many people I like and respect oppose gay marriage. There are also some issues involved that I can't even pretend to understand.  At the same time, the first time I read Goodridge v. Department of Health, the Massachusetts Supreme Court decision on gay marriage cited above, I had the exact same feeling I have every time I read Henrik Hertzberg in The New Yorker:  He takes what I want to say and turns it into poetry. And the Goodridge decision has to be among the most beautiful and persuasive cases I have ever read on any issue:
The exclusive commitment of two individuals to each other nurtures love and mutual support; it brings stability to our society.  For those who choose to marry, and for their children, marriage provides an abundance of legal, financial, and social benefits.  In return it imposes weight legal, financial, and social obligations . . .
Many people hold deep-seated religious, moral and ethical convictions that marriage should be limited to the union of one man and one woman, and that homosexual conduct is immoral.  Many hold equally strong religious, moral, and ethical convictions that same-sex couples are entitled to be married, and that homosexual persons should be treated no differently than their heterosexual neighbors.  Neither answers the question before us.  Our concern is with the Massachusetts Constitution as a charter of governance for every person properly within its reach.  "Our obligation is to define the liberty of all, not to mandate our own moral code" . . .
Barred access to the protections, benefits, and obligations of civil marriage, a person who enters into an intimate, exclusive union with another of the same sex is arbitrarily deprived of membership on one of our community's most rewarding and cherished institutions.  That exclusion is incompatible with the constitutional principles of respect for individual autonomy and equality under law.
I am confident enough in this country to believe that we will eventually end up in the right place. In fact, I am convinced that future generations will look back at the debate over gay marriage today with the same puzzlement with which we view earlier battles. It is hard to believe, for example, that at one time someone must have opposed the right of African Americans and women to vote.  Would anyone ever make that argument today?
As for people who oppose gay marriage today, I don't mean to oversimplify things and you are certainly entitled to your views based on the religious, moral, and ethnical convictions described by Goodridge.  I also suspect you will be welcome in the gay-marriage camp should you eventually come around. But let's be real here. While you can always try to add your name to the list later, the time to come out in favor of gay marriage is today. Because now is when it really matters.