More on Gay Marriage: The Bert-and-Ernie Debate
by Jamison Koehler on August 12, 2011
My wife and I head to France next week for the marriage of our friends "Paul" and "Serge."  My wife will officiate at the wedding ceremony.  Lawyers can apparently do that in France, although they tell me that, under French law, I am too old to serve as the ring-bearer.  Damn.  And by just a couple of years at that.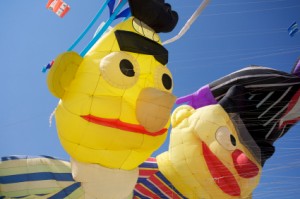 Paul and Serge lived together for four years before Paul came up with the courage to tell his parents he is gay.  After a long talk, both parents were understanding and accepting. But one last thought did occur to Paul's mother after the conversation was over and Paul was heading for the door.  "Oh but Paul," she said. "How well do you think Serge is going to take the news?"
There has been some good-natured but sincere chatter recently on the Internet urging the producers of "Sesame Street" to let Bert and Ernie, the two inseparable and "googly-eyed" pals, finally tie the knot.  As Petula Dvorak of the Washington Post puts it, there is good reason for a show "that has been in the vanguard on social issues for 40 years should step up and give children a positive example of a kind of couple that . . . lives in 99 percent of the nation's counties."
Dvorak herself is against the proposal:  "Kids don't need us to label that Muppet relationship. What next?  We diagnose Oscar the Grouch as bipolar, manic-depressive; explain Big Bird as a Muppet with Marfan syndrome; and tell kids that Grover's mommy is never around because she's the CEO of a major multinational corporation and always traveling?"
The far better course, she says, would be to have Sesame Street add a same-sex human couple on the show:  "These are flesh-and-blood, genuine and increasingly legal unions.  It's not something that should be represented by foam creatures."
With the New York legislature having recently legalized gay marriage in the Empire State, there are now six states that issue licenses for same-sex unions.  Public opinion surveys show a remarkable trend in the growing number of people who support same-sex marriage.  For example, a Washington Post-ABC poll found that 51 percent of people nationwide now support gay marriage, up from 36 percent in 2006.
I have also detected a promising trend in movies and on T.V. — similar to the evolution with respect to the portrayal of African Americans — in which gay characters are no longer defined solely by their sexual orientation; they can be flawed and complex human beings as well. I think it was Don Cheadle who said that there were two types of roles available to him when he first started out in acting:  He could play the angry black street hood or he could portray the noble victim of racism and oppression.  But in either case, the character was defined solely by race. He says he gets better roles now.
Friends of ours who are gay have always demonstrated a remarkable tolerance toward the people who would deny them the same rights as everyone else enjoys in our society.  "It's complicated," they say when I ask them why they aren't more bitter about it all.  This is a tolerance I for one need to emulate.