On Public Protests and Traffic in D.C.
by Jamison Koehler on June 7, 2011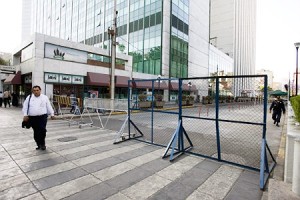 I have complained about the tourists.  I have complained about the motorcades.  Today my problem in getting across town from where I was  (Georgetown) to where I wanted to be (D.C. Superior Court) was caused by two different demonstrations, one against the Inter-American Development and the other having something to do with Wall Street.
Years ago, in a different life, I was in Mexico City on some business, trying to get to the U.S. Embassy. Because there was a large demonstration outside the Embassy, our car was diverted to a protected sidestreet at the back of the Embassy so that we could enter through the garage.  Idling nearby in this cozy enclave were four or five open-backed army trucks with riot troops crouched inside.
"What are they protesting?" I asked the Embassy official I was with.  "U.S. policy in Central America?"
"No," he said.  "They are upset about a recent tax hike in the city."
"A tax hike?" I replied.  "Then why are they protesting in front of our Embassy?  What do we have to do with that?"
The official laughed.  "Every time there is a protest here, on anything, they do it in front of the U.S. Embassy.  They are certain to draw more press coverage that way."
Among its many charms, this city would appear to be the U.S. Embassy in Mexico City when it comes to protests in his country.  Which was no consolation to me as I sat in traffic with my air conditioning malfunctioning.  Hey, I thought as I waited for the traffic to ease, if people want to protest something being done on Wall Street, they should go to New York City.