"Eat and Get Gas"
by Jamison Koehler on June 12, 2011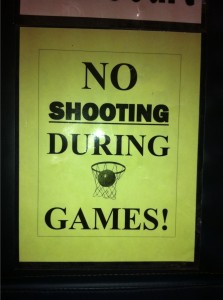 Here is a sign my son and I saw posted by the basketball courts this afternoon at Yates, the Georgetown University Field House. Compliance with the directive makes for some pretty low-scoring games.
The sign ranks right below my all-time favorite sign, something that was posted at a greasy little diner in upstate New York:  "Eat and Get Gas."
It also reminds me of an old joke about the football game between two teams of idiots.  A car in the parking lot back-fired during the first quarter.  One team, thinking this was the gun for half-time, ran off the field.  Three plays later the other team scored.