Update on "Facebook Burglar" and Other Stories
by Jamison Koehler on May 17, 2011
You can always come here for the exclusive story.  And there is no one more adept at re-packaging stale news stories from other sources than I.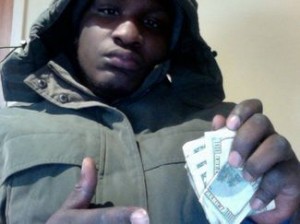 Last December I was one of only 150 news outlets/bloggers to cover the story of the "Facebook Burglar," the guy who broke into someone's house, took cash, clothing, and the son's laptop, and then used that laptop to post a photograph of himself on the son's Facebook page wearing a stolen coat.  In addition to the stupidity of this brazen act, the Facebook Burglar was also unlucky:  the owner of the house was senior Washington Post editor Marc Fisher who wrote about the burglary in the Post.
Not surprisingly, the Facebook Burglar, who turned out to be 19-year-old Rodney King, was caught and prosecuted.  King pleaded guilty earlier this month to burglary and possession of a loaded firearm without a license and was sentenced by D.C. Superior Court Judge Anthony Epstein to 3 ½ years in prison.
While congratulating police on their speedy response to his 911 call, Fisher complains about the plea bargaining process that led to this "relatively modest prison term."  The prosecutor, he writes in a recent update in the Post, "aggressively angled to cut a deal" despite "some remarkably damning evidence."   Fisher also bemoans the lack of attention to property crimes, which he suggests could act as "gateway offenses" to more serious crimes: "Taking more burglars off the street would reduce the incidence of violent crimes – federal research indicates that many burglars progress up the crime ladder — and rebuild public confidence in the justice system."
Even apart from the weakness of this platitudinous statement, Fisher clearly has a different definition of "serious penalty" than I. He seems unable to recognize the benefits of a system that enables a criminal defendant to receive more lenient treatment in exchange for an acceptance of responsibility.  Finally, he refuses to acknowledge that, absent public willingness to devote substantially more resources, the whole criminal justice system would come crashing down if every defendant exercised his/her constitutional right to a trial.  A property crime is a property crime.  And three-and-a-half years is a helluva lot of time.
Updating other stories also covered here, the Post reported this morning that Chamica Adams, the 23-year-old woman who plowed into two pedestrians in Adams Morgan while driving under the influence of alcohol last September, pleaded guilty to involuntary manslaughter and was sentenced yesterday to 3 ½ years in prison.  One of the pedestrians, an Austrian woman named Julia Bachleitner, later died as a result of her injuries.
Finally, following up on the Nick Stuban suicide from January, the Post reported this morning that Fairfax school board members are still considering changes to a disciplinary system that many claim is far too strict. According to board member Sandra Evans, Superintendent Jack D. Dales has refused to embrace "'true parental notification' that would involve parents in the disciplinary process before students are questioned or write self-incriminating admissions."