Norm Pattis Is Kicking My Butt in "Words With Friends"
by Jamison Koehler on April 12, 2011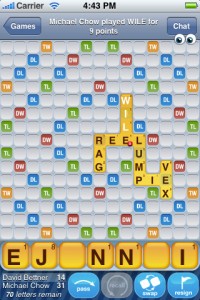 My children have kidded me about using an IPhone without ever having downloaded a single application.  Guilty.
But that is no longer true.  They helped me set up the "Words With Friends" application, and I have been losing at what is essentially Scrabble to people all over the world ever since.  I am, for example, 0-3 against my 16-year-old son.  This is the son who never does his homework.  Maybe that whole homework thing is overrated.  I suppose I should also be concerned that he seems to do most of his playing while he is at school.
Many competitors – people with handles like ""Sbrevolution" or "Rhojo" — invite me to a second game after the first one ends.  I am now into my third game with "Chigmom."  I think these people smell blood.  They like improving their win-loss record.
On my third or fourth day of playing the game, I made the mistake of inviting Norm Pattis to play. Actually, not knowing how to actually invite someone, I invited him to invite me to play. We are now nearing the end of our first game.
Knowing how smart Pattis is and lacking the anonymity I normally have, I decided to bring my A-game. No more picking the first word that seemed to work. Having gotten four separate word entries out of placing the word "Hash" and having come up with words like "zoon" and "polyp" for a triple word score, I am averaging well over 20 points per turn, an average that is far above what I normally achieve.
And still I am losing. Horribly. Pattis doesn't go for the big words, although he comes up with those as well.  No, like a civil lawyer picking apart a contract, he runs up an astronomical number of points with two and three letter words that are placed strategically on the board.  These are words that never would have occurred to me.  Like:  Seg.  Mo.  Hie.  Are you kidding me?  Where is your self-respect after coming up with a word like that?
Pattis is clearly cheating.  I challenge him to tell me when he has ever before used one of these words in every day conversation or in something he has ever written.  I really seg that mo.  How about hie?
I recall someone complaining to Pattis in cyberspace about how English is her second language.  While I may not have that excuse, I take some consolation in knowing I am not the first person to lose to Pattis.
For my handle, I went with the very original "jamisonkoehler."  Challengers welcome. Prepare for some butt-kicking. It will probably be mine.