D.C. Overhauls Disorderly Conduct Statute
by Jamison Koehler on March 22, 2011
Disorderly conduct laws made national news in 2009 when Harvard professor Henry Louis Gates, Jr. was arrested at his home for "loud and tumultuous behavior in a public place." Gates, who is African American, claimed racial profiling. The officer, who is white and who was responding to a call of a possible break-in at the professor's house, claimed that Gates was loud and belligerent in violation of the law. While the two men did not exactly kiss and make up, they did get together later at the White House where they shared a beer in the Rose Garden with President Obama and Vice President Biden.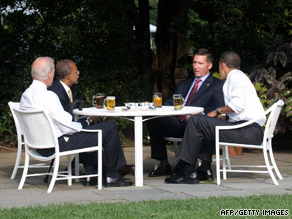 Said Eugene McDonnell of the John Jay College of Criminal Justice at the time, disorderly conduct is "probably the most abused statute in America."  Added Boston University professor Tom Nolan:  "Disorderly conduct is a fluid concept.  Unlike a lot of other crimes, this really calls for the use of discretion in a way that armed robbery or more serious felony crime doesn't."  And discretion in the hands of the wrong police officer can be a dangerous thing.
Disorderly conduct laws have also come under fire in D.C.  In June 2010, for example, the D.C. Court of Appeals issued a decision, In Re T.L., that narrowed the scope of the offense in the District.  Specifically, finding that the law was being interpreted too broadly to include behavior that was either innocent or justified, it held that, in order to satisfy the "breach of peace" requirement under the statute, the government must prove either that (1) the defendant's speech or conduct was likely to trigger violence or (2) it was "unreasonably loud and disruptive."
More recently, the D.C. Council has just enacted major changes to the District's disorderly conduct laws to "eliminate vagueness in the language of the statute":
The disorderly conduct statute is clearly important to quality of life as well as the public peace.  And yet disorderly conduct is difficult to define in the law because often it deals with conduct at the edge of what is acceptable in a free society.  We celebrate the First Amendment's guarantee of freedom of speech, and yet we want to arrest the drunk who is speaking too freely (and too loudly) in the middle of the street at 3:00 am.  The right to demonstrate is an important freedom, and yet does not give people the right to block streets or the entrance to an abortion clinic as part of their protest.
One particular change was made to the "loud and boisterous" section of the law.  According to the D.C. Office of Police Complaints, the "revision makes clear that offensive language directed at police officers, standing alone, does not constitute disorderly conduct."
Codified through Chapter 13 of the D.C. Crimes Code under the general heading of "Disturbances of the Public Peace," disorderly conduct offenses accounted for 2,744 arrests in 2009.  Prohibited actions include unlawful assembly; profane and indecent language; playing games in the street; throwing stones or other missiles; urging dogs to fight or create disorder; allowing dogs to go at large; lewd, indedent, or obscene acts; kindling bonfires, disturbing religious congregation; interference with medical facilities and health professionals; flying fire balloons or parachutes; driving or riding on footways in public grounds; false alarm of fire; sale of tobacco to minors; disorderly conduct; rioting or inciting to riot; and obstructing bridges connecting D.C. and Virginia.
With the overall goal of the amendments to "eliminate language that is either vague or unenforceable," specific changes include the following:
D.C. Code § 22-1307 on "Unlawful Assembly, Profane and Indecent Language" now prohibits a person from "crowding, obstructing, or incommoding the use of any street, alley, sidewalk, or entrance."  ("Incommode" means to make passage inconvenient.);
D.C. Code § 22-1312 on "Lewd, Indecent, or Obscene Acts" is re-written to clarify the indecent exposure statute in light of case law, including the prohibition of sex in public, and it also prohibits indecent sexual proposals to a minor;
D.C. Code § 22-1314 on "Disturbing Religious Congregation" now prohibits any person or persons from disrupting a worship service, including a funeral;
D.C. Code § 22-1321 on "Disorderly Conduct" has been re-written and now proscribes a number of activities, including inciting or provoking violence through behavior or language; disrupting a lawful public gathering; unreasonably disrupting the lawful use of a public conveyance by other persons; making unreasonably loud noise between 10:00 pm and 7:00 am that is likely to annoy or disturb other persons in their residences; urinating or defecating in public; Peeping Toms; and jostling or unnecessarily crowding a person.
The penalty for violating any of these prohibitions has been increased from $250 to $500, although the term of imprisonment remains a maximum of 90 days.
The new law was signed by Mayor Vincent Gray on January 19, 2011 and will take effect on April 3.