Ode to Last Year's Crimes Code
by Jamison Koehler on February 13, 2011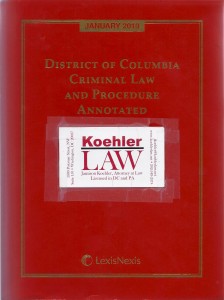 Among the things I like best about being a lawyer are the books.  And of these, the one- to two-inch compilation of criminal offenses and rules of procedure is always a criminal defense lawyer's bestfriend. I like the small type and the way the thin pages feel between your fingers. I like the reassurance of knowing that the pages provide a potential answer to any question you may possibly have.
If there is something exciting about a brand new crimes code, there is something even better about the dog-eared and coffee-stained code that has traveled with you and served you well over the past year. With yellow stickies marking the most frequently consulted sections and your notes scrawled in the margins, the code is like a security blanket and friend all rolled into one.
But, alas, with the arrival of the new D.C. crimes codes this week in the mail, the old one will soon be relegated to the back shelf. There, the crimes code will gather dust, its cover faded and torn while the battles rage on without it.  It is like the steadfast tin soldier in the Hans Christian Andersen tale:  "but he remained firm, and never changed countenance, and looked straight before him, and shouldered his musket."  It is like the toys in the Eugene Field poem: All covered with dust and standing true on a chair, they wait in vain for the hands that put them there.