Albert Haynesworth Charged With Assault
by Jamison Koehler on February 5, 2011
I have written about Albert Haynesworth and his troubles with the Washington Redskins. And I have written about simple assault in Virginia. Now I write about Albert Haynesworth AND simple assault after Haynesworth was charged with the offense following a road rage incident Wednesday in Reston.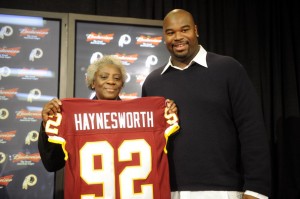 According to the Washington Post, the driver of another car claims that he was driving southbound on the Fairfax County Parkway when a pickup truck began to tailgate him.  The two vehicles jockeyed for position.  When the two vehicles came to a stoplight near the Reston Hospital Center, the driver says that a man he recognized as Haynesworth got out of the pickup truck and came to the driver's side of his vehicle.  "You're not so tough now," Haynesworth reportedly said and then punched him in the nose.
The other driver tried to follow Haynesworth's truck after the incident but lost him.  So he called 911 instead.  After picking out Haynesworth from a photo array, the driver and a Fairfax police officer then went to a magistrate to obtain a warrant for Haynesworth's arrest.
If the other driver's allegations are true, Haynesworth's actions would certainly satisfy the elements of assault and battery.  The offense, as defined in Virginia, has two elements.  First, the prosecution must prove that the defendant willfully touched another person without excuse or justification. Second, the prosecution must prove that the touching was done in an angry, rude, insulting or vengeful manner.  The penalty for a conviction of this offense is up to 12 months in jail and/or a maximum fine of $2,500.
The Post quotes Fairfax Chief Deputy Commonwealth's Attorney Ian Rodway as describing the offense as the equivalent of a traffic ticket.  By suggesting that Haynesworth could face nothing more than a fine and points on his license if convicted, Rodway's statement is very misleading.  Although Virginia does punish some traffic offenses, such a reckless driving, as class 1 misdemeanors (and, in some cases, as class 6 felonies), assault is very much a criminal offense.