The 2010 ABA Journal Blawg 100
by Jamison Koehler on December 2, 2010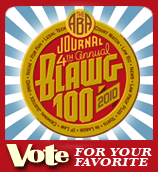 Every year for the past four years, the ABA Journal has published its list of the top 100 legal blogs as chosen by its editors.  The Journal notes that it gives preference to blawgs that are regularly updated and that contain original content, opinion and/or analysis.  While I am not sure exactly how the process works, readers are apparently able to help the Journal narrow the field to 12 of the very best blogs by voting.
This kind of list will always be subject to criticism.  You can never satisfy everyone.  In fact, although I can't remember the sources for attribution, I have already read a number of people claiming that the list is nothing more than a popularity contest based on what the ABA staff is currently reading. This sounds a little bit like sour grapes to me. Besides, even if true, I would imagine ABA staff provide a pretty representative cross-section of the legal community. In other words, if the ABA staff are reading something in particular, chances are pretty good that it is a damn fine blog.
This suspicion is borne out by the list of blawgs included for recognition this year. I am pleased to see a number of the blawgs that I follow included on the ABA list. Congratulations (in alphabetical order) to Gideon of A Public Defender, Mark Pryor of DA Confidential, Mark Bennett of Defending People, Carolyn Elefant of MyShingle, Eric Turkewitz of New York Personal Injury Law Blog, Mirriam Seddiq of Not Guilty, and Scott Greenfield of Simple Justice.
If you would like to vote for your favorites (or for my favorites), please click here. It only takes a moment to register.