On Networking, Referrals, and Friendships
by Jamison Koehler on December 10, 2010
In a couple of hours, I am going to put aside the motion to suppress I have been working on.  I will shower and shave, and put on a jacket and a tie.  I will leave the comfort of my warm and cozy home study and step outside into the cold, where this year's first snowflakes have just begun to fall.
I will drive across town to Tragara's, an Italian restaurant in Maryland, where I will sit with a group of other lawyers at a set of tables arranged into a square.  We will each introduce ourselves by naming our practice areas and the jurisdictions in which we are licensed to practice.  Someone will throw out a question or two, and we will discuss it.  A few people will do most of the talking. We will pass out our business cards.  We will then get up, shake hands, and return to our work.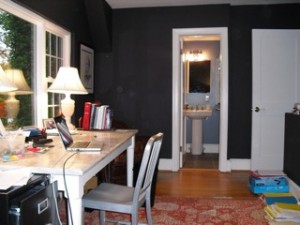 I have very little in common with most of these lawyers.  I have very little interest in most of their practice areas.
So why do I do it?
In forcing myself go to one of these networking event, I always need to remind myself that I have met many of my favorite lawyer friends in this area through some type of networking function. I first met Matt Kaiser and Chris Guest and Mirriam Seddiq, for example, at Tragara's. An awkward handshake and some small talk turned into lunch. One lunch turned into two lunches and two lunches turned into a poker game. And the poker game has turned into a friendship.
Through other networking events, I have met Dan Gross, Carolyn Elefant, Tom Spiggle, and many, many more.  Andrew Flusche has been an enormous source of information and support for me as I have expanded my practice into Virginia.  If he is that responsive to me, I can only imagine how responsive he is to clients.
Kimberly Schaeffer helped me overcome problems with Microsoft in setting up my letterhead.  And it is always a pleasure to run into Michael Bruckheim or Jon Katz in D.C. Superior Court.  We trade information.  We talk football and gossip.  We cover cases for each other.
And we refer clients to each as well.
After all, wasn't that the whole point of the networking thing?  Wasn't that what we all learned we should do in the how-to books we read on running a business?
The fact is, we don't refer clients to people because we remembered their faces from Tragara's and managed to keep their card.   We refer clients to these people because we have gotten to know them.  We know that they are good people and good lawyers.  And we know that they will do right by the people we send their way.
I referred my banker to Andi Geloo on a traffic case.  A couple of weeks later, my banker called me back.  I was concerned that there was some problem with my account.  No, she laughed.  I just wanted to thank you for giving me Geloo's name.  That woman is absolutely phenomenal.
Solo practice can be pretty lonely.  Starting a business can be a challenge.   Other people going through the same thing can be an important source of moral support.  In that respect, the referrals you get through the networking cease being an end in themselves. Referrals become instead just an added benefit.
With those wise and saccharine words, I am off to Tragara's.  I'm thinking I will go with the salmon this time.  And who knows, maybe I will meet someone I like.