On Heath Shuler and a Proposed NFL "Rookie Wage Scale"
by Jamison Koehler on December 20, 2010
I have been rooting against Heath Shuler for 16 years. I rooted against him when he was the number one draft pick for the Washington Redskins in 1994. I rooted against him when he was traded to the New Orleans Saints in 1996.  And I continued to root against him when he ran for Congress in 2006.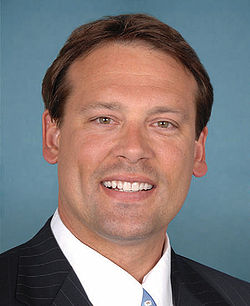 What had Shuler done to deserve my eternal enmity? First of all, he held out before signing his contract with the Redskins in 1994, missing almost all of training camp. Second, having missed training camp, Shuler played poorly and eventually lost the starting spot to someone who did show up for training camp, Gus Frerotte, a quarterback who had been drafted in the last round and who had signed for the league minimum. In other words, Shuler got the money while Frerotte did all the work.
Third, Shuler disrespected me and thousands of other people here in D.C. when, after being booed at RFK stadium following his holdout, he told a reporter that he preferred the fans from his alma mater, the University of Tennessee, to Redskin fans.  While D.C. fans are not quite as bad as Baltimore fans when it comes to John Elway, we too can be pretty unforgiving.  The final straw for me was when I read that Shuler's family had already put aside Shuler's first game jersey for the day in which Shuler would be inducted into the Pro Football Hall of Fame.
That is how he got on my bad side.
At the same time, in fairness to Shuler, you can hardly blame him for holding out for more money than the Redskins were offering at the time. His agent was merely negotiating in a system in which high round draft picks can earn millions of dollars in guaranteed money before they have ever played a single down in the NFL, while lower round picks and many proven veterans have to settle for rock-bottom salaries.
Shuler was the third player chosen in the 1994 draft and the deal that eventually brought him into training camp was worth $19.25 million over seven years.  David Carr signed a contract worth over twice that amount when he signed with the Houston Texans in 2002. The amount was doubled yet again with the deal Sam Bradford cut this past summer with the St. Louis Rams:  $78 million over 6 years.
That's just how the market works in the agreement that will be expiring this year:  A handful of players make an obscene amount of money.  Everyone else makes far, far less.  Is it any surprise that there is so much resentment in the locker room?
Mark Murphy, the former Redskin and current president/chief executive of the Green Bay Packers, takes this a step further. Teams don't like the system because it requires them to pay astronomical salaries to a few unproven players.  Fans don't like it because of the holdouts.  And most players don't like it because of the tremendous disparity it introduces in compensation levels.
Murphy proposes to replace the current system with a "rookie wage scale" similar to what he says the NBA and NFL already use.  According to this proposal, "the first pick in the draft would sign a five-year contract and receive a $5.34 million signing bonus and $1.5 million salary his rookie year, even if he does not play a single down.  In years two and three, his salary would be set at $1.7 million and $1.9 million, respectively.  His fourth- and fifth-year salaries would rise to $2.3 million and $2.9 million for a total package of $15.6 million."
In other words, says Murphy, the first pick would still be paid well, but at a much more "reasonable" level than under the current system.
While Murphy is a former player representative for the union, it is clear where he now sits:  on the side of the owners.  At the same time, assuming that the savings in salary from top round picks could be spread out among other players to help eliminate the tremendous disparity in compensation, I think his proposal makes a lot of sense.  Some version of it could help avoid a lockout of the players this spring.
As for Heath Shuler, we will never know how well he might have performed as the Redskins quarterback had he reported to training camp back in 1994.  As a Sports Illustrated writer pointed out a few years ago, unlike most other positions in pro sports, a player's performance as a quarterback in college is a poor indication of the player's success as a pro.  Many of the best college quarterbacks have failed abysmally in the NFL.  Others have come out of nowhere to have great careers.
At the same time, it is hard not to believe that Shuler's first year in the NFL, and ultimately his entire career, would have gone a lot differently had he had the time at training camp to make the transition from college to professional ball.  In that case, even Shuler himself might have supported a simpler system, such as one proposed by Murphy.  By taking the uncertainty out of his contract negotiations, such a system would have allowed him to report to camp on time.  In that case, he might not have gone down in history, according to ESPN, as the 4th biggest draft bust of all time.  In the meantime, because we Redskins fans never forget, I am still rooting against him.