"Law and Baseball" Apparently Knows Football
by Jamison Koehler on September 21, 2010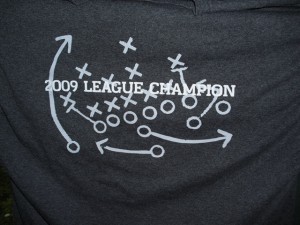 Congratulations to Johnny Gardner of Law and Baseball who wrested first place from Sui Generis in week 2 of the criminal law blog fantasy football league. Gardner scored a league record 169 points in defeating Mark Tanney for a total of  266. Gardner is followed in Division 1 by Jeff Gamso of Gamso for the Defense, also still undefeated with 182 overall points.
Mirriam Seddiq of Not Guilty leads Division 2 with 230 overall points after defeating Sui Generis 111 to 109 in this week's closest match. Seddiq is followed by Tricia Bushnell of Evolving Innocence with 222 points and Jamie Spencer of Austin Criminal Defense with 216.
There are now only 5 undefeated teams. This week's "Try Again Next Week" award goes to Brian Gurwitz of In Your Defense.  Mark Draughn of Windy Pundit will be relieved to hear that Gurwitz now holds the league record for fewest points in a week:  35.
Division 1 (Win-Loss, Points)
Law and Baseball (2-0, 266)
Gamso For the Defense (2-0, 182)
Koehler Law (1-1, 239)
A Public Defender (1-1, 195)
Liberty & Justice for Y'all (1-1, 169)
In Your Defense (1-1, 135)
Mark Tanney (0-2, 210)
Chandler Criminal Defense (0-2, 168)
MyShingle (0-2, 125)
Division 2 (Win-Loss, Points)
Not Guilty (2-0, 230)

Evolving Innocence (2-0, 222)

Austin Criminal Defense (2-0, 216)

Sui Generis (1-1, 247)

Probable Cause (1-1, 232)
Brucklaw (1-1, 168)
The Trial Warriors (1-1, 163)
Norm Pattis (0-2, 206)
Windy Pundit (0-2, 100)