Introduction to Fantasy Football League for Criminal Law Bloggers
by Jamison Koehler on July 31, 2010
With just over a month until the start of the NFL season, the Fantasy Football league for criminal law bloggers is shaping up nicely.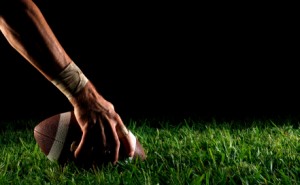 Fourteen teams will be divided into two randomly selected divisions.  Law and Baseball, Gamso – For the Defense, Mark Tanney, A Public Defender, Chandler Criminal Defense, Liberty and Justice for Y'all, and Koehler Law are all assigned to Division 1.  Division 2 will include Evolving Innocence, The Trial Warriors, Brucklaw, Norm Pattis, Not Guilty, Probable Cause, and Sui Generis.
I have also made a last minute appeal to a number of other criminal law bloggers I am hoping will still join.  Jeff Gamso currently holds the honor of being the league's most reluctant participant.  It was only after Mirriam Seddiq used her impressive courtroom persuasion skills that he finally succumbed. I suspect his protestations of not knowing anything about football or the NFL were really a clever ploy designed to lull the rest of us into complacency.
I will be running the draft as soon as I firm up the participation, which should be in a day or two. In the meantime, participants should make sure they are comfortable with their draft orders. Bloggers who don't know much about football or the NFL might stick with the default order provided by Yahoo. As I understand it, that order reflects the combined wisdom of everyone else who has participated in the draft so far this season.
May the best criminal law blog win.  The league commissioner will be doing updates and analysis here.