Q'orianka Kilcher Arrested for Disorderly Conduct/Unlawful Entry
by Jamison Koehler on June 14, 2010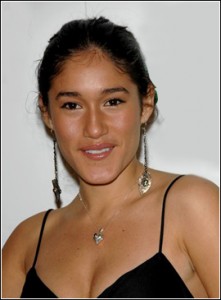 How great is it to live and blog in D.C.?  We get all the fun stories.
The Washington Post reported this morning on the arrest of Peruvian actress Q'orianka Kilcher earlier this month for chaining herself to the fence outside the White House.  Ms. Kilcher was using a visit to the White House by Peruvian President Alan Garcia to protest Peru's development of indigenous lands for oil and minerals.
Ms. Kilcher covered herself with a blend of vegetable oil, black fingerprint and baby shampoo and then chained herself to the fence, with her arms linked together through a PVC pipe. The mixture looked so much like oil that a hazardous materials crew was called.  The slippery substance also made it more difficult for Park police to grab her.
The Huffington Post identifies the charge as disorderly conduct; the Washington Post says it was unlawful entry. I imagine she may also be asked to pay restitution for the hazmat team.
Ms. Kilcher is best known in this country for playing Pocahontas in the 2005 movie "The New World." She is quoted in the Post as saying:  "I love film roles because I'm a person who doesn't keep quiet about certain things.  But if my heart tells me something is wrong, I'm going to go and do something about it."