Images From Abu Ghraib
by Jamison Koehler on June 25, 2010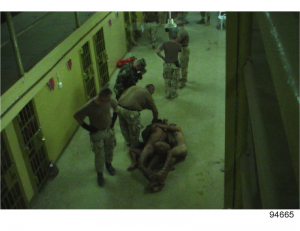 A couple of years ago, my wife Susan Burke delivered the keynote address at the annual meeting of the Society for Photographic Education in Denver. Susan talked about the power of photographic imagery to shape and change our world views.  Beginning with photographs from the Vietnam War (the little girl running naked from the napalm, the shooting of a Vietcong suspect by the mayor of Saigon), Susan moved on to the now now-iconic photographs of the torture of Iraqi prisoners at Abu Ghraib. She reminded the audience how these images had shocked the country and outraged the international community. She also described how the photographs have served as evidence in the court martial of offending soldiers and in the civil suits against American contractors who committed the torture.
Drawing on her experience as lead counsel for the civil case, Susan described how she had provided a number of artists with access to her Iraqi clients with the hope that the resulting "art would serve to magnify the voices of the victims." She described how, from her interviews with the victims, including the Iraqis captured in those iconic photographs (the man in the hood, the man on the leash, the men in the pyramid), she knew that the victims wanted justice.  She also knew that the victims wanted the world to know what had happened to them.
Based on this recognition, Susan brought along Jennifer Schelter whose one-woman play, Love Lessons From Abu Ghraib, opened in Philadelphia and then in D.C.  She brought along Chris Bartlett whose photographic portraits of the torture victims have toured the country.  She brought along author Nick Flynn, whose experience serves as the underlying theme for The Ticking Is The Bomb, a memoir that came out this year.  And she brought along Daniel Heyman, the painter/printmaker for whom the Abu Ghraib torture had been a major source of artistic inspiration – almost an obsession – even before he was introduced to Susan at a Philadelphia dinner party.
Beginning with Daniel Heyman, I plan to profile many of these artists over the next couple of months and the art that emerged from their exposure to the Abu Ghraib victims.