On Jon Katz, Texas Hold 'Em, and Fantasy Football
by Jamison Koehler on May 31, 2010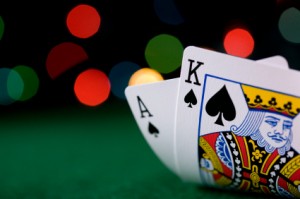 Last week I had the pleasure of getting together for lunch with fellow D.C.-area lawyers/bloggers Mirriam Seddiq and Jon Katz. Regular readers of this blog know Seddiq very well, but may not know that Katz authors one of the most successful criminal law blogs out there, the Underdog blog.  I envy his blogging experience and numbers.
I have had the idea for a while now of organizing a poker game for D.C.- area criminal law bloggers.   Mirriam is up for it, as is Carolyn Elefant.  I've also been trying to interest Matthew Kaiser of The Kaiser Blog and a few other criminal defense lawyers in this area who also blog.  The idea was that, after we improved our game, we could challenge Mark Bennett, Mark Pryor, and other Texas criminal law bloggers at their own game — Texas Hold 'Em – in a regional match.  We East Coasters could show those Gulf Coasters who is boss.
I regret to say that Katz' reaction was at best lukewarm.  He did, however, take this video of Mirriam for YouTube.  That I refused to go in front of the camera myself had nothing to do with his lack of interest in my stupid little poker game.  Because that would have been petty, right?
My next idea, which I can only hope is more successful, is to organize a Fantasy Football league for criminal law bloggers this coming fall.  I know even without speaking with her that Mirriam is game. Katz will be lucky to be invited.  I am already studying up.