When Police Officers Commit Assault
by Jamison Koehler on May 26, 2010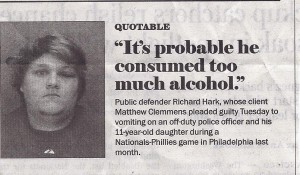 It's a little blurb on page two of today's Washington Post sports page, so you know it's not real news. It begins with a quote by the defendant's public defender:  "It's probable he consumed too much alcohol."  Then the facts:  Some guy vomited on a police officer and the officer's daughter at a Phillies-National game in Philadelphia.  Finally the news:  The defendant pled guilty to some unidentified offense.
Given the light tone of the blurb, you can assume the writer expects you to find this information interesting or even humorous.  Drinking too much and losing your lunch on a hapless police officer and his daughter.  Gross.  Disgusting.  Ha, ha, ha.
But what is interesting to me about the blurb is not the fact that the guy's lawyer made an understatement.  It's not that the police officer's daughter was only 11 years old.  (Grosser?  More disgusting?)  It's not that Philly fans drink too much and get rowdy at professional sporting events. We already know that.
What's interesting to me about the blurb is the photograph that accompanies it.  In what is obviously a mug shot taken after his arrest, the defendant is pictured as a chubby, round-faced guy who looks to be no older than a teenager. And, with his left eye swollen shut, he has obviously been beaten up.
I have no idea who this guy is.  And I certainly wasn't there at Citizens Bank Park when the whole thing happened.  Checking his name on the Internet, I find that there may have been more to the story than reported by the Post. From what I read, it certainly does not sound as if the guy is blameless. Hey, he may well have deserved what he got.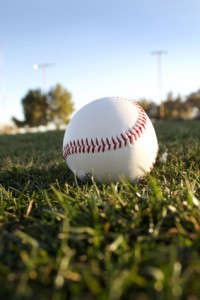 But I still cannot stop thinking about the guy's swollen left eye.  How many mugshots have I now seen in which the subject looks out toward the camera with the confused look of a man who has just been beaten up and the cuts and bruises to prove it? How many young men I have encountered in a cramped, overheated interview room at the prison with missing teeth, gaping and oozing wounds, and a story of how they were beaten up – punched and kicked — by a group of overzealous police officers?  How many YouTube videos have we all seen of helpless citizens being victimized by law enforcement personnel?
I am not a bleeding heart, pacifistic, commie-loving liberal. I respect the police. I understand the dangers police officers subject themselves to during the course of duty. They run towards trouble when I want to run away.
But I have tried too many cases in which police misconduct has been twisted around into criminal charges against a client. As we used to say at the Philly PD's office, the more serious the injuries on the client, the more serious the charges:  aggravated assault on a police officer, aggravated assault by a prisoner, resisting arrest, recklessly endangering another person, mayhem, and so forth.
I have also lost more of those cases than I would like to admit.  And, as always, it's the ones you lose that stick with you. The problem is, no matter how many videos we see on YouTube, no matter how many times we see evidence to the contrary, we still want to believe in the goodness of all police officers.  So do many judges and juries.
So, yes, I too was grossed out by the thought of this guy's vomit all over the poor police officer and his 11-year-old daughter.  And again, yes, maybe he deserved the whupping.  But I can't help thinking about parents all over the ballpark taking their children to see a baseball game only to have them subjected first to the sight of the vomit and then to stand witness to this guy being beaten up.  Maybe next time they should watch the game on T.V.