Latest Twist On The Car In Our Front Yard
by Jamison Koehler on April 19, 2010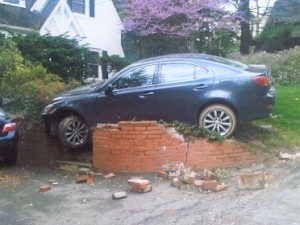 Over the last week or so, I have written a couple of times about the guy who drove his car onto our front lawn and into our brick wall.  The incident has created quite a stir on our quiet little street in Arlington where things like this don't usually happen.
Complicating things is the fact that we are new to the neighborhood. Because we have missed a number of social functions (e.g., the bonfire during the big snow), our next-door neighbor has suggested that people might think we are a tad standoffish. We don't mean to be unfriendly.  But I do have to admit, after two of your kids have left for college and after you have moved a number of times and view your current house as just temporary, you may not make the same investment in getting to know the neighbors as you may once have.
Then this happens, and some of your already suspicious neighbors assume that the car in the yard is one of yours. Just who are these people, you can imagine the neighbors asking themselves during one of the many social functions on the street.  And, of course, you can't answer this question because you are not attending the social function.
The driver of the car did come by our house the next day, where, to my son's great embarrassment, he was chewed out by my mother law. I called him later to apologize. He could have called, he told me.  But he wanted to leave off his insurance information in person. He explained that he had swerved to avoid a cat in the road.  He didn't want to wake us late at night, but he had in fact notified the police.
Now comes the latest.  It turns out that one of our neighbors was woken up by the sound of the "landing."  She then heard him talking on his cell phone outside her house.  Damn, damn, damn, he kept saying but in harsher terms.  I messed up!  I messed up!  I fell asleep!
We know that the car must have been traveling pretty fast to end up where it did.  Do you think it is too cynical of me to assume he had been drinking?