". . . steeples, come to nothing, shape the sky"
by Jamison Koehler on March 22, 2010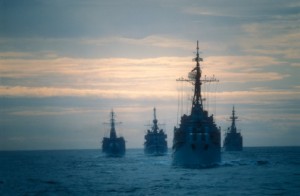 This weekend I will be attending a poetry reading at the Renaissance Center in Amherst, Massachusetts in honor of my father, who turns 95 this month. Forty people will be reading from one of my father's poetry collections.
In helping to prepare for the reading, I came across one of my father's lesser known poems, one that I had never read before.  In a break from my normal practice on this blog, I would like to reproduce it here. The poem was written by a young Navy lieutenant standing on the bridge of a a U.S. destroyer, somewhere in the Pacific, right after the bombing of Nagasaki and Hiroshima. I think it is still relevant today.
The Compass
It turns through ten degrees,
a change
of continents.
Let those who take the wheel
on calm decks
white with salt
forgive
our errors in a time
the sides shook,
the bow was slow
lifting,
the needle lost its mind.
And while I am at it:
Cain
He turns in space
as a planet turns
and his face
is terrible
of the miles he knows.
Time will not change
the look of things
though he comes
more often than the sun.
Finally, to end with something just  a little bit more uplifting:
Snow
I wake, and think
so this is how it comes,
no thunder, wind,
or windstorm's
violence to rend
our lower nature,
only a presence.
Outlines are familiar:  light
was present yesterday.
Without event
The miracle is here.
Given the day,
let crystal loose
on me, to see
beyond the accident
of snow, this
brilliance touched
with rose.
All poems copyrighted by G. Stanley Koehler